David Jones takeover approved by Australian court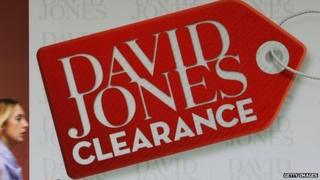 The multi-billion dollar sale of Australian department store David Jones to South Africa's Woolworths Holdings has been approved by a court in Sydney.
Thursday's approval was the final step required for the $2bn (£1.2bn) deal to be realised.
Shareholders of David Jones, Australia's second-largest department store, backed the arrangement on Monday.
The firm's shares will see their final day of trade in Australia on Friday.
Shareholders will be paid approximately $3.75 per share as part of the sale deal.
The Australian Securities and Investments Commission, the nation's top corporate regulator, had raised some concerns about the deal in court on Thursday, but these were later rejected.
Both David Jones and Woolworths said they were pleased with the decision.
"This is a very exciting moment in the history of both Woolworths and David Jones and a major milestone in our strategy to become a leading Southern Hemisphere retailer, " Woolworths' chief executive Ian Moir was quoted as saying in the Sydney Morning Herald newspaper on Thursday.
David Jones is a household name in Australia but the firm has been struggling in recent years against competition from online retail outlets.
The department store was established 176 years ago and currently operates 38 stores across the country.
South Africa's Woolworth Holdings has no relationship with Australian supermarket chain Woolworths Ltd.