Most Asian shares fall on Malaysian Airline crash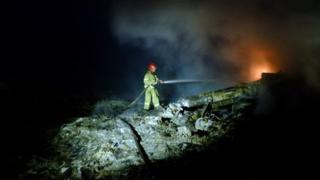 Most Asian shares saw falls on Friday after a Malaysia Airlines jet carrying 298 people crashed in east Ukraine on a flight from Amsterdam to Kuala Lumpur.
Malaysia Airlines said flight MH17 was carrying a total 298 people, with 283 passengers including three infants, and 15 crew.
There were no signs of survivors at the scene of the crash near the village of Grabovo.
Japan's Nikkei 225 had fallen by more than 1% at the end of trading in Tokyo.
Hong Kong's Hang Seng index fell by 0.3% at the end of the day.
Shares in Malaysia Airlines closed 11% down on Friday. It is the second disaster the carrier has experienced this year.
Flight MH370 disappeared en route from Malaysia to China in April and still has not been found.
Australian shares were down slightly on Friday on news of the Malaysian passenger crash in eastern Ukraine.
In a statement, Malaysia Airlines said MH17 was carrying at least 154 Dutch nationals, 27 Australians, 43 Malaysians (including 15 crew), 12 Indonesians and nine Britons.
Other passengers came from Germany, Belgium, the Philippines and Canada, with the nationalities of 41 people not yet confirmed.
The International Civil Aviation Organisation (ICAO) said it had recently warned of a safety issue in the region near where flight MH17 was shot down.
Malaysia's prime minister Najib Razak said the plane crash in eastern Ukraine was "deeply shocking".
Australia's prime minister Tony Abbott said if the crash over eastern Ukraine was a deliberate act, then "it is an unspeakable crime" and said those responsible must be brought to justice.
In the US, uncertainty surrounding the circumstances of the latest Malaysian Airlines tragedy - combined with news of an Israeli ground operation into Gaza - led investors to flee to so-called safe haven assets like gold and US Treasury bonds.
US shares ended sharply lower after geopolitical unrest unnerved investors.