Augmented reality gives physical world a virtual dimension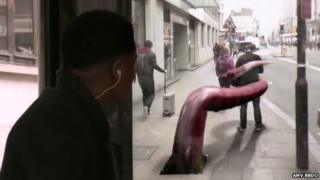 For some it seems, the world is not enough.
Physical objects are often static and dumb, offering little interactivity to the curious observer. Which is why the potential of augmented reality (AR) - virtual enhancement of the physical - is getting business excited.
Retailers, advertisers and industry are all now using the technology, which overlays computer-generated content - video, graphics, text, sound or GPS data - on to real-world images captured by smartphones, tablets and hi-tech glasses.
The results can sometimes be startling.
Pepsi Max's recent "Unbelievable" ad campaign, devised by agency AMV BBDO, made people waiting at a bus stop think they were seeing marauding giant robots, charging tigers and flying saucers in the street beyond.
The trick was achieved by rigging up a bus shelter in London's Oxford Street with a full HD screen and a camera on the opposite side to create a see-through effect. A live video feed of the street beyond was then overlaid with the animations.
Waiting passengers were amazed... and sometimes a little alarmed.
"The brief was simply to create an unbelievable experience in a public space," says Gregory Roekens, chief technology officer at AMV BBDO.
"The stunt was made possible using augmented reality technology and indeed we can say that in this instance AR opened up new creative possibilities."
But Mr Roekens says that while AR will spread in advertising, it will never replace a good marketing idea.
"The key to this technology is that you've got to put the user at the centre of the experience, not the technology."
Virtual furnishing
So is AR just a gimmick? Retailers would seem to think otherwise.
Home furnishing giant Ikea, which has been blazing a trail in augmented reality catalogues, is so pleased with the customer response so far it has decided to expand its range of AR-scannable products.
Customers can flick through the 2014 catalogue, scan a product they like with their phones, then point the phone at where they'd like the furniture to sit.
A scaled image of the product is then virtually projected into the space - as seen through your camera viewfinder - so they can see if it's suitable.
"The response to the catalogue's augmented reality innovations, particularly in the UK, has been tremendous," says Peter Wright, marketing manager for Ikea UK and Ireland.
"We started with 90 of our best-loved products, but due to overwhelming public demand we are more than tripling this number to 300 in our new catalogue."
And recently "clicks-and-bricks" retailer Argos introduced 300 pieces of AR content into its catalogue. Customers who have downloaded the Argos app on to their smartphones or tablets can scan the relevant pages to launch videos, 3D models, games and competitions.
Bertrand Bodson, chief digital officer at parent company Home Retail Group, says: "Building a bridge between our physical and digital channels remains a key priority for us."
The eyes have it
AR also has obvious potential in clothes retailing - being able to try on outfits, glasses and makeup virtually could save a lot of time and money.
Total Immersion's TryLive, for example, uses face-tracking technology to let consumers "try on" glasses virtually using their laptops without even having to visit a shop.
The computer webcam displays your face on screen and the glasses are overlaid on the image in 3D, says Kamal Rassool, Total Immersion's sales director for the UK and Northern Europe.
Similarly, Fitting Reality offers a virtual changing room that allows shoppers to see on a TV or laptop screen what clothes might look like on their particular body shape.
The future of advertising?
According to Ori Inbar, chief executive and co-founder of AugmentedReality.org, AR is useful in marketing as it drives "deeper brand engagement than traditional advertising".
"Instead of just clicking on a link, liking a Facebook page or watching a commercial, customers interact with the actual product itself," he says.
For example, Blippar is an app that lets you scan products, posters or adverts with your smartphone to trigger interactive experiences on the screen.
"Blipp" your Oyster card and you get real-time travel updates; blipp a Pepsi can and you can play an interactive game incorporating the packaging; blipp a press ad and you get product information and purchasing options beamed back at you.
Ambarish Mitra, Blippar's founder and chief executive, says that AR apps can yield a huge amount of useful data for firms.
"Traditionally most marketing was 'spray and pray' - no-one could tell exactly how much traction an advertising campaign had.
"But with Blippar you can see exactly how consumers are interacting with a campaign. It's a key differentiator for marketers."
The factory floor
AR is also being used to make businesses run more effectively and efficiently.
Volkswagen, for example, has introduced its "mobile augmented reality technical assistance system" (Marta) - a tablet-based application to help mechanics, developed with AR technology firm Metaio.
By overlaying scaled 3D graphics on to a live camera feed, Marta takes you step-by-step though mechanical procedures on VW's XL1 hybrid car. It also lets you know which tools to use, labels parts, and even lets you try out new components, such as different-coloured hoods.
"Before, employees tended to be trained very narrowly on specific tasks," says Angela McIntyre, research director at technology research firm Gartner.
"But AR will allow workers to be trained and use several different types of equipment on the job as they go."
Hands-free AR solutions could make work even easier, as experiments by the software firm SAP and smart glasses provider Vuzix demonstrate.
At a trial at a Bosch warehouse in Germany, real-time information is made visible right before a worker's eyes as they go about their jobs.
This allows them to know where to pick inventory, receive alerts and instructions to handle maintenance, and to get safety messages to avoid accidents in blind spots, says SAP.
Such technology could also make assembly, field installation, testing and machine tooling safer and more efficient. But Ms McIntyre stresses that most uses of AR technology in industry are still in their infancy.
"I think it could take three to five years until we see them used in manufacturing in a larger scale way."
AR asks an awkward question of society, too: will workers accept solutions that do so much thinking on their behalf?
Blippar's Mr Mitra is unperturbed. "AR is actually enhancing people's decision making, which is making them more efficient," he maintains.
"That has been the whole job of the consumerisation of computers over the last 30 years; our lives are becoming easier and faster and this is just the next step."