Pension delay to be less lucrative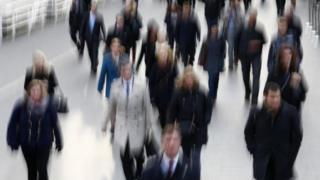 People who delay taking their state pension from 2016 will gain less financial benefit than under current rules, the government has proposed.
The government pays a higher pension to anyone who defers taking it beyond state pension age, but it wants to lower the generosity of this system.
Currently, the deferred pension rises by 10.4% for each year it goes untaken. That rate is proposed to fall to 5.8%.
The plan ends a system designed to encourage people to keep working.
'Generous'
Analysts say that the new proposed rate would mean that an individual deferring a pension for a full year would need to live for about 19 years to recoup the pension and so benefit financially from the decision. That is because the deferred pension is not paid in one lump sum, instead the retiree is paid more when they eventually start claiming the state pension.
At present, under the current rate, it takes only about 10 years for the deferral to be more lucrative for their pension income.
Tom McPhail, head of pensions research at Hargreaves Lansdown, said that the current rate was generous.
"With the population living longer and more people staying in the workforce later, it is hardly surprising that the government has chosen to cut back on this generous rate of return," he said.
"The [new rate] might still be an attractive proposition for someone in good health with substantial private savings or who is willing to carry on working."
Encouragement to delay
The current rate was put in place in the 1990s and the Department for Work and Pensions said that, at that time, it was used as an incentive for people to delay drawing their state pension.
A spokesman said that this incentive only tended to be taken up by the better-off, and that the economy was different in the early 1990s.
However, the DWP said that it now had a "neutral view" as to when retirees decided to take their state pension, so the rate should be lowered to a cost-neutral level.
The plan to cut the rate was revealed in a written ministerial statement by Pensions Minister Steve Webb, who said it was a fair rate based on advice from the Government Actuary.
The new rate will apply to those who choose to defer their state pension after reaching the state pension age on or after 6 April, 2016.
The rule changes are designed to coincide with the introduction of the new, flat-rate state pension.
The flat-rate pension, which will only be paid to new pensioners, is likely to amount to about £144 a week for many people.
Recent changes to the law mean that workers cannot be forced to retire when they reach state pension age. Ministers have also announced that the state pension age will go up faster than previously planned as life expectancy accelerates.