British tourists resume their love affair with Spain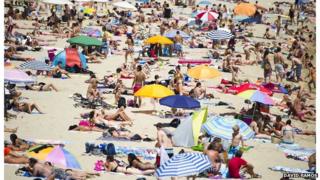 British sun-seekers are choosing Spain again, as the number of visitors to Spanish destinations is at an all-time high.
In the first half of 2014, 28m foreign tourists visited the country up 7% on last year, according to Spain's tourism ministry.
Unrest in destinations such as Egypt and Turkey is said to be one of the reasons Europeans are returning.
The big draws were the Canary Islands, Catalonia and Andalusia.
Barcelona, in Catalonia, draws visitors to its nearby Benicassim music festival.
British holidaymakers topped the list, with 6.5m visiting the country during the first six months of the year, up 5.8% from a year earlier. German tourist numbers rose 8.8% to 4.7m while the number of French holidaying in Spain climbed 10.3% to 4.2m.
'Spanish formula'
Travel journalist Simon Calder said: "We never fell out of love with Spain - but other countries, in particular Turkey and Egypt, have been aggressively luring us with lower prices.
"With capacity to Egypt sharply reduced because of the political problems, it is natural that some holidaymakers are going to revert to the safe haven of Spain".
Tom Hall at the Lonely Planet told the BBC: "Spain was there at the start, but as all inclusive package holidays became popular it was places like Turkey led the way. It took familiar destinations a while to catch up.
"Whilst unrest has played a part, I think it is as much to do with Spain catching up with the deals offered elsewhere. In the last few years we have seen a renaissance of familiar holiday options.
"People tried other places, then thought: the formula in Spain is pretty good.
'Bookings down'
Spain became the main destination for British holidaymakers travelling abroad after British European Airways opened a flight route to Valencia in 1957.
The term 'Costa Blanca' was created to promote the route.
The popularity of the Spanish coast began to wane as people looked elsewhere. In April 2004 tour company First Choice dropped the Costa Brava region from its summer brochure.
Bookings were down almost a quarter on the year before,
British buying in Spain
Tourism is crucial to Spain's economy, which has struggled to gain strength after a decade-long property boom collapsed in 2008.
But British buyers are investing in Spain again as sales of properties in Spain to UK residents have increased 55% in the first three months of 2014 compared to the same period a year earlier.
That's according the latest information from Spain's General College of Notaries.
Online searches for properties in Spain increased by 51% over the first six months of 2014 compared with the same period in 2013, according to Knight Frank's Global Property Search.