Saudi Arabian stock market to open to foreign investors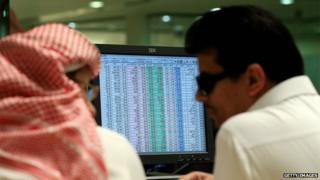 Saudi Arabia's stock market will open up to foreign investors for the first time, the country has announced.
The move, which should happen in the first half of 2015, sparked a 3% rise in the Tadawul index on Tuesday.
The Saudi market is the biggest in the Middle East and the second biggest in the world, next to China, that is closed to direct foreign investment.
Currently, foreigners can only gain exposure to Saudi stocks through derivatives and investment funds.
After the market is opened up, foreigners will be able to buy Saudi stocks directly on the Tadawul.
"The market will be open to eligible foreign financial institutions to invest in listed shares during the first half of 2015, with God's permission," the country's Capital Market Authority said.
The move is part of wider government efforts to diversify the Saudi economy away from oil.
'Massive move'
Analysts expect there to be a great deal of interest in the market as investors look to buy into some of the Middle East's blue chip companies and into an economy that is expected to grow by more than 4% this year.
"This is a massive move for Saudi and for the region," said Rami Sidani, head of Middle East investments at fund manager Schroders, who forecast the country would "definitely attract massive inflows" as a result of the move.
Experts say it will also benefit the country, which will be seen as a mainstream destination for big international investors.
"This is a potential game-changer for the region, a very important milestone that people have been waiting for," said Salah Shamma at fund manager Franklin Templeton.