Argentina debt: Judge orders non-stop negotiations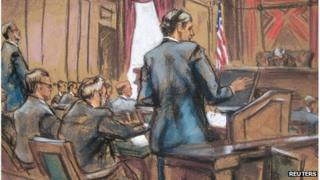 A US judge has ordered Argentina and its creditors to meet "continuously" to avoid the nation defaulting on its debts.
District Judge Thomas Griesa told the parties to meet from 10:00 EST (14:00 GMT) on Wednesday to hammer out a deal.
Argentina has been in a legal dispute with investors holding debt from the nation's default in 2001-2002.
It has until 30 July to find a solution or possibly default again.
Argentina has been reluctant to pay the investors describing them as "vulture funds".
It also fears that a settlement would prompt claims from other investors, who felt short-changed by the original debt restructuring.
'Worst thing'
Judge Griesa said that further delays to the case were not necessary and that a settlement is achievable.
"If we don't, there will be a default, and that is the worst thing. That is about the worst thing I can envision. I don't want that to happen.
People will be hurt by that, real hurt. Not vultures being hurt, but real people," he said.
The US court is in a powerful position because it can block US banks from paying the vast majority of bondholders who accepted the original restructuring.
Judge Griesa told the two sides to meet a lawyer appointed to oversee the talks on Wednesday and meet "continuously until a settlement is reached".
The lawyer representing Argentina, Jonathan Blackman, said a settlement "simply can't be done by the end of this month", even with non-stop talks.