Boeing profits from sales boost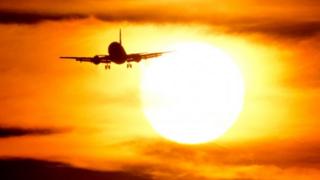 Boeing's profits from April to June were boosted by a "strong" commercial aircraft sales, the company has said.
Net profits rose 52% to $1.65bn (£1bn) from the same period last year.
During a quarter which saw the firm deliver its first Dreamliner 787-9 aircraft, Boeing's earnings from commercial aircraft operations helped to offset a fall in defence profits.
Separately, US airline giant Delta reported a 17% rise in profits thanks in part to higher fares.
Tax boost
Earnings from Boeing's defence, space and security business fell 25% to $582m, but profits from commercial aircraft rose 7% to around $1.6bn.
The company boosted its full-year earnings forecast to between $7.90 and $8.10 per share, up from its previous forecast of $7.15 to $7.35 per share.
"Overall, our strong first-half financial performance, sustained focus on growth and productivity, and positive market outlook support our increased earnings guidance for the year," said Boeing chief executive Jim McNerney.
The firm expects higher full-year profits in part due to second-quarter tax settlements totalling $408m.
Jumbo deliveries
Boeing said commercial aircraft deliveries rose 7% to 181 in the three month period. The total included 30 Dreamliner jets.
Boeing grounded a number of aircraft last year, including the Dreamliner fleet, following two incidents where batteries caught fire.
The firm said it had a total order book worth $440bn, with more than 5,200 orders for commercial aeroplanes.
"With 783 new commercial airplane orders to date this year and significant contracts in the quarter for military aircraft and satellites, our backlog remains large and diverse," Mr McNerney said.
Delta profits soar
Meanwhile, US carrier Delta Air Lines announced second quarter earnings rose 17%, to $801m from a year ago.
Passengers flew more miles, at higher average fares, and fuel spending declined, the firm said. Delta's average fuel price was $2.93 per gallon in the quarter. The company owns its own refinery in Philadelphia.
The results from Delta come before American and United post second quarter figures on Thursday. Analysts expect the biggest US carriers to report large profits.