Websites frozen in pension campaign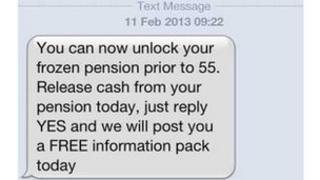 Eighteen websites have been suspended and arrests made during a campaign, being revamped on Thursday, against pensions cash "predators".
Pension liberation schemes encourage people to access their pension savings before the age of 55.
But the campaign, run by the Pensions Regulator, highlights the high tax charges and fees that can erode the pension pot of anyone who signs up.
It said money tied up in these schemes amounted to at least £495m.
This figure has grown as operators use text messages, cold calls, or website promotions to encourage people to access their "frozen" pension.
Raids
The campaign was first launched in February 2013, and the Pensions Regulator has applied to the courts to freeze assets in 20 schemes.
Action by the National Crime Agency has resulted in 18 pension liberation websites being suspended, and raids by the City of London Police in May led to seven arrests.
Pensions minister Steve Webb said: "Although quick-fix pension release schemes may seem tempting, particularly when times are tough, people should make sure they understand all the implications before they sign on the dotted line.
"A joint industry and government operation is working to stamp out these unethical, exploitative, poor value offers - but I would urge anyone who is approached to think carefully, consider seeking advice and, if in doubt, steer clear."
People can only access their pension before the age of 55 without a tax charge if they are in serious ill-health.
Fees
Pension liberation schemes - working in a grey area of the law - operate by suggesting to people that they take a loan from the scheme provider, secured on their pension funds.
Alternatively, the money might be transferred from the pension scheme into risky, unregulated investments often based overseas, the Pensions Regulator said.
However, up to 70% of any funds released from a pension early can go to HM Revenue and Customs (HMRC).
These liberation scheme operators can also charge high fees, often between 10% and 20% of the amount "released", leaving people with a small sum and no financial backstop for their retirement.