IMF says US growth will be a "disappointing" 1.7%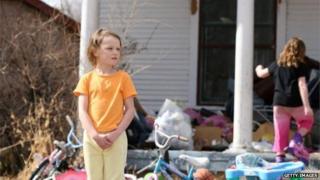 The International Monetary Fund has lowered its forecast for US economic growth for the second time this year.
It also called for measures to help the poorest, suggesting a boost to the minimum wage and an expansion of tax credits.
In its annual report card, the IMF said overall growth for this year would be "disappointing" at 1.7%, blaming the contraction at the start of the year.
In June it had predicted growth of 2% for the year.
The report concluded the country was therefore likely to remain with below full employment until 2018.
"Optimistic"
The IMF said that growth for the remainder of this year was likely to be stronger at 3-3.5%.
"Behind that pessimistic number, we do see a relatively optimistic view of the economy going forward," said Nigel Chalk, deputy director of the IMF's Western Hemisphere department.
But that would not be enough to offset the poor performance in the first quarter of the year, the report said.
US GDP, or economic output, contracted during the first three months of the year, at an annual rate of 2.9%.
That slowdown was blamed on severe winter weather, a weak housing market and a slower pace of restocking by businesses and weaker exports.
Poorest pockets
The Fund said it expected the economy to pick up steam in 2015 and maintain stronger growth rates.
But there remain long term challenges, the Fund warned, in order to sustain growth above 2%.
Due to the ageing population the country needs to undertake significant reforms including tax and immigration changes and more investment in infrastructure and job training.
There should be better provision of childcare assistance to enable parents to rejoin the workforce in future, the report suggested.
The Fund also said the US should focus more resources on the poorest pockets of the population to ensure "economic and social stability".