Power cut victims to get bigger payouts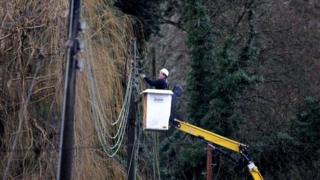 People whose power is cut off for long spells during bad weather will be eligible for much higher compensation payments.
The regulator Ofgem is raising the minimum payment per customer from £27 to £70 for those who go at least 24 hours without power.
It follows the storms last Christmas when nearly one million people in southern England were cut off.
Of those, 16,000 were without power for more than two days.
Ofgem was particularly unhappy with the efforts of the power supplier SSE, and the power distribution firm UKPN (UK Power Networks), to restore power quickly enough to their customers.
Maxine Frerk of Ofgem told the BBC that telling customers what was going on was just as important as reconnecting them.
"There are lessons that have got to be learned for the future - both about getting some customers reconnected faster, but most importantly about the communications with customers, so that they can get through, find out what's happening and get some sense of when they're likely to be back on supply," she said.
Further action
The two firms have already paid £4.7 million in compensation to their most badly affected customers.
Now, after Ofgem pressure, the companies will donate a further £3.3 million to organisations like the Red Cross which help distressed customers during power cuts and bad weather.
The regulator said the point of raising the level of compensation payouts was to give the firms an incentive to work faster at reconnecting customers.
"Ofgem's findings showed that while SSE and UKPN's southern arms were particularly badly hit by the storms, they could have done more to get customers reconnected faster and to keep them better updated on what was happening," said the regulator.
"The companies have recognised that they must improve their procedures for any future major interruption and Ofgem has today put the industry on notice that any repeat of last year's performance issues will trigger further action," it added.
UKPN pointed out that it had been deluged with phone calls from customers during the storms, receiving more than 100,000 on the morning of Christmas Eve.
Extra measures
And it said it had already made improvements.
"Some of the measures we have put in place since December include training extra call-takers, damage assessment teams and customer information officers to restore power supplies quicker and keep customers better informed in future extreme events," said a spokesman.
"We are working closely with the industry and the Department of Energy and Climate Change (DECC) to support the introduction of a single, national, three-digit number for customers to call during power cuts, as well as a number of other initiatives," he added.
As well as raising the minimum compensation payment to £70, the maximum amount that can be claimed by a customers is also going up - from £216 to £700.
The higher level of compensation payments come into effect from April 2015.