Spanish jobless rate below 25% for the first time in two years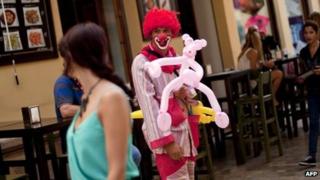 The unemployment rate in Spain has fallen below 25% for the first time in two years, thanks to the beginning of a revival in the economy.
An extra 402,000 people started work in the second quarter of the year, boosted by the seasonal upturn in tourism.
That helped to push the official jobless rate down to 24.5%, from 25.9% in the first three months of the year.
However the Spanish unemployment rate is still the second highest in Europe, with 5.6 million Spaniards out of work.
Strong figures
That compares to 17.4 million who are officially in work.
"These figures are much better than expected and while there's an important seasonal element, seasonally adjusted figures are also strong," said Jose Luis Martinez, economist at Citi in Madrid.
Seven years ago, unemployment in Spain stood at just 7% but then rose sharply to nearly 27%.
The country has suffered from persistent recession, the bursting of a housing and construction bubble, and government austerity policies devised in response to the eurozone crisis.
On Wednesday, the Spanish central bank said that the country's economy had been growing at its fastest rate for six years and was now 0.5% bigger than in the first three months of the year.
The bank also predicted that this would continue, with the economy likely to expand by 1.3% this year and by 2% next year.
Holger Schmieding, an economist at Berenberg bank in London, said: "Spain has turned into one of the fastest-growing economies in Europe."
Stuck in a rut
Across the eurozone as a whole, the economy appears to be picking up.
The Markit purchasing managers index (PMI), a measure of business activity, rebounded this month.
Its first, or "flash", estimate of activity, which covers both manufacturing and service industries, rose from 52.8 in June - a six-month low - to 54 in July.
Markit said that many companies had reported a pick-up this month after an unusually high number of holidays.
James Ashley, chief european economist at Royal Bank of Canada (RBC) in London took a more downbeat view.
"The euro area appears to be stuck in a rut where activity growth is neither building momentum nor losing traction, and the PMIs are presenting a fair reflection of that economic reality," he said.