Vincent Tchenguiz in £3m settlement with Serious Fraud Office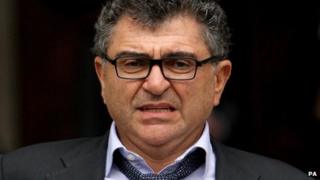 The Serious Fraud Office (SFO) has agreed to a £3m settlement with the business tycoon Vincent Tchenguiz.
It has been awarded in connection with his wrongful arrest in 2011 as part of an investigation into the collapse of the Icelandic Bank Kaupthing.
The SFO said it "deeply regrets" the errors in its handling of the case and that the mistakes would not be repeated.
A separate claim by Vincent Tchenguiz's brother Robert has not been settled.
"I am pleased that we have been able to resolve this matter without the need for a costly trial," said the director of the SFO David Green.
"The SFO deeply regrets the errors for which we were criticised by the High Court in July 2012," he added.
"On behalf of the SFO I apologise to Mr Tchenguiz for what happened to him."
Mr Tchenguiz will receive £3m as part of the settlement and a further £3m towards the final costs.
In a statement he said: "I recognise the important work which the SFO was created to carry out and the impact that this litigation had on their ability to fulfil their role."
"However, I hope that the SFO has learned lessons from this sorry episode in its history and the serious and significant errors which led to my investigation and arrest are never repeated," he continued.
In July 2012 the High Court ruled that the search warrants for the raids on the Tchenguiz brothers in March 2011 were unlawful, and that the SFO had "conceded that serious mistakes were made in connection with the application for search warrants in this case".
The SFO was looking at why substantial funds flooded out of the Kaupthing bank in the days before it failed in 2008.
Vincent Tchenguiz had borrowed £100m from the Icelandic bank shortly before its collapse. Both he and his brother have always denied any wrongdoing.