UK profit warnings hit three-year high, says EY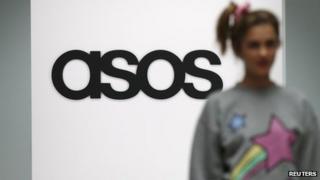 Profit warnings from UK companies have hit a three-year high despite the continuing recovery in the wider economy, a report has found.
Listed firms issued 137 warnings in the first half of 2014, 9% up on a year ago and the highest number since the first half of 2011, consultancy EY said.
Increased competition, squeezed margins and a strong pound were the reasons.
Official figures released on Friday showed that the UK economy had returned to its pre-crisis level.
GDP growth for the second quarter of the year was 0.8%, the sixth consecutive quarter of growth.
More competition
But while the economy as a whole continues to strengthen, a number of companies are finding trading conditions tough, the EY report suggests.
Companies that have issued profit warnings this year include retailers Asos and Mothercare, luxury goods brand Mulberry, construction firm Balfour Beatty and outsourcing giant Serco.
Almost 20% of all profit warnings cited competitive or pricing pressures, compared with 7% a year earlier, EY said.
More than 20% cited the strong pound, up from 3% a year ago.
The pound has risen about 13% against the US dollar this year in anticipation of a rise in interest rates.
Continued economic growth and falls in unemployment, as well as fears of a bubble in house prices, mean most commentators expect to see interest rates rise either late this year or early next.
A strong pound makes UK goods more expensive overseas, but EY said this was less of a problem than converting profits made in foreign countries back into pounds.
'Austerity mindset'
"Pricing and competitive pressures are clearly affecting businesses in 2014," the report said.
Consumer goods manufacturers in particular are feeling the pressure, with 16% of companies in the sector issuing warnings, almost double last year's figure.
At the other end of the scale, retailers issued "an unusually low" number of warnings.
"While the recovery has boosted demand, it hasn't eradicated the austerity mindset of businesses or consumers," said EY's Keith McGregor.
"Moreover, the low level of insolvencies means companies are competing in a packed and competitive market place, lowering normal level of returns."
The GDP figures released on Friday showed that the UK economy is now 0.2% bigger than it was at its peak in 2008.
Output per head, however, is not expected to reach its pre-crisis level until 2017, partly because productivity from those in work remains weak, along with the fact the population as a whole has grown.