The tricky business of succession planning in Taiwan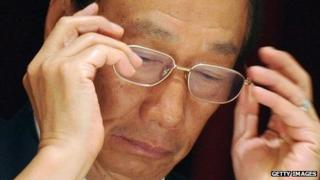 Taiwan's business landscape is filled with successful entrepreneurs who, after starting with nothing, now run some of the island's largest companies.
These firms, most of which remain family-owned and run, have helped drive Taiwan's rapid economic growth over the past decades, and remain crucial to the island's future.
But some analysts estimate that just one-third of these family-run firms - which account for up to 90% of the island's businesses - have a succession plan.
Further still, Yeh Yin-hua, a professor at National Chiao Tung University's Institute of Finance, says that some 60% of Taiwan's publicly listed companies are still being managed by their original and ageing founders.
About 20% are being run by second or third-generation family members, Prof Yeh says, with a remaining 20% having hired leaders from outside their founding families.
These statistics are vastly different to those of family-run companies in some western countries.
Many firms in the US, for example, have been through as many as five leadership successions and their management boards regularly ask about long-term succession planning, says Prof Yeh.
"In the UK and the US, they have a system for CEO [chief executive officer] turnover.
"In Taiwan, though, it's still the emperor's style of succession. No-one outside can tell what will happen - it's the founder's decision."
High stakes
It is a traditional Chinese approach for founders to divide the family firm up between all their children - but it is a tradition that has seen companies divided.
Sibling rivalry can become unmanageable and internal family bickering can weaken firms.
In addition, many Taiwanese companies have simply become so large that younger family members have been left incapable of taking on a senior leadership role.
Some of Taiwan's biggest firms facing some of these problems include computer making giants Acer and Quanta, textile and retail firm Far Eastern Group, and the consumer products maker Tatung.
Analysts say there is a lot at stake as many of the island's big family firms employ thousands, are publicly listed and have a high market value.
"Family businesses are definitely very important in Taiwan and across Asia because they control a lot of resources," says Ming-Je Tang, a professor specialising in strategic management at National Taiwan University's Department of International Business.
"And if they make the wrong decisions, I think the whole economy will suffer a lot," he says.
"But the problem is that most first-generation entrepreneurs are workaholics. Some work into their 80s and 90s, or until they die.
"They don't want to give up their position and they still want to make major decisions for their company. As a result, their successor, if they have one, does not have a chance to handle the whole company.
"I think that's a major crisis for Taiwan's businesses because without a successor in place, the companies don't know what will be the direction for the next decade."
Micro managers
One example is Terry Gou, chairman of the world's largest contract electronic goods maker Hon Hai Precision Corporation, also known as Foxconn.
The 63-year-old commands more than one million employees, but his two grown-up children have shown no interest in the company and he is yet to name a successor.
Some years ago, Mr Gou enlisted the help of a group of academics, including Mr Tang, to develop a successor training plan. The plan was later disbanded after it became clear that no-one would be able to take over from Mr Gou until he started to delegate more.
"He can pick up [the] phone and call Steve Jobs or Bill Gates," says Mr Tang.
"How can he transfer [these kind of] connections to his successor?"
Mr Tang also says the Foxconn head micro-manages.
"He makes decisions on product lines and prices and everything. And any spending over $100,000 (£59,000) needs his approval.
"And his business is roughly $100bn."
Mr Tang says even division managers at Foxconn have to obey Mr Gou's orders.
"He manages every detail. He works 16 hours a day, seven days a week," Mr Tang says.
"As long as he dominates everything and does not delegate, nobody can succeed him."
There are other examples of this leadership style in Taiwan, but the topic is so sensitive, very few companies will comment.
Experts say some of Taiwan's company heads are starting to look beyond their own family for top management talent, and that the percentage of companies opting for family succession has dropped.
But they warn succession planning for big family businesses is not a matter to be taken lightly.
"We do not see the next generation of entrepreneurs able to come out… and as a result we are slow to change, we are slow to move into new business, and we are in a stagnant economy," says Mr Tang.