House price growth 'starts to slow'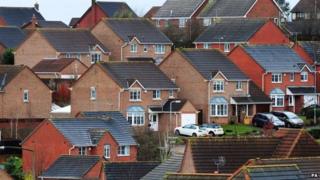 Seven out of 10 regions of England and Wales recorded month-on-month falls in house prices in June, according to the Land Registry.
Prices overall across England and Wales were unchanged in June compared with May, the survey suggested.
However, property prices were still 6.4% higher compared with a year ago, leaving the average home priced at £172,011.
A number of surveys have shown big annual price rises in recent months.
Surveys are now starting to make annual comparisons with a time a year ago when the housing market was firmly in the realms of recovery.
House price calculator
Use our calculator to see where you can afford to rent or buy
'Frenetic'
The latest Land Registry data shows that the biggest month-on-month rise in June was in the West Midlands (up 1.9%), with the largest fall in Yorkshire and the Humber (down 1.3%).
The largest year-on-year rise was in London (up 16.4%) and the slowest rise was in the North East of England (up 0.8%).
Other surveys in recent months have echoed the view of local markets moving at a different pace, but, overall, showing some levelling off of property prices.
A number of commentators have predicted a slowdown in the UK housing market during the summer holiday season, following the typical "Spring bounce" in activity.
Peter Rollings, chief executive of Marsh and Parsons estate agents, said that more choice of homes meant that prices were stabilising.
"After a frenetic start to the year, the pace of house price growth has slowed this quarter as the market stabilises and returns to more normal trading conditions," he said.
Jeremy Leaf, of the Royal Institution of Chartered Surveyors, said that the potential for an interest rate rise was affecting confidence, but there were still people keen to buy.
He said that a more narrow price differential across different regions of the country would be welcome.
Regional house price changes
Region
Monthly change
Annual change
Average price
West Midlands
1.9%
4.7%
£135,228
South East of England
0.6%
7.8%
£228,109
London
0.1%
16.4%
£437,608
Wales
-0.3%
2.7%
£117,440
North West of England
-0.4%
2.2%
£109,905
East of England
-0.4%
7.9%
£187,820
South West of England
-0.9%
5.4%
£180,880
East Midlands
-1%
6.4%
£129,030
North East of England
-1%
0.8%
£98,555
Yorkshire and the Humber
-1.3%
3.4%
£118,699
England and Wales
0%
6.4%
£172,011
Source: Land Registry