Strike ends in South Africa as wages to increase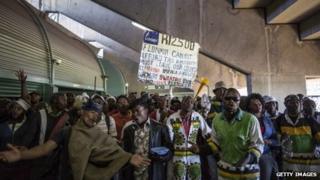 A four-week strike in South Africa has come to an end after the country's biggest trade union sealed a deal with employers.
The National Union of Metalworkers of South Africa (Numsa) said its 220,000 striking members had "unanimously" accepted the employers' offer.
The deal promised three-year fixed annual wage increases of 10% for Numsa's lowest-paid workers.
But it has seen both sides compromise heavily on their initial offerings.
'Sweat and struggles'
The strike was across South Africa's steel and engineering sectors. According to employers, it cost the engineering sector about R300m (£17m) a day.
The South African department of labour and a national mediation council had to step in to arbitrate early on during negotiations as they were in deadlock.
Numsa lowered its initial demand of an increase between 12 and 15%, while Steel and the Engineering Industries Federation of South Africa (Seifsa), the body representing employers, increased theirs, up from an opening 7%.
Seifsa chief executive Kaizer Nyatsumba said he hoped "all parties would honour the letter and spirit of the agreement".
Numsa's general secretary Irvin Jim said the final agreement had come as "a product of sweat and bitter struggles by our toiling workers for a living wage… and a four week long resolute battle to do away with colonial apartheid-era wage dispensation in the engineering and metals sector."
The strike, which started on 1 July, saw 220,000 members down tools, and affected about 12,000 companies, and carmakers including Toyota Motor and General Motors.
The strike came almost immediately after the country's record five-month-long strike on the platinum belt.