UBS responds to US investigations into its 'dark pools' trading system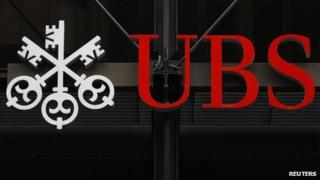 UBS, Switzerland's biggest bank, says it is responding to US investigations surrounding a private trading system known as "dark pools".
Dark pools are private trading platforms for professional investors to sell large amounts of shares.
UBS says it is in the "very early stages" of litigation and is co-operating with US regulators.
Deutsche Bank also said it had been asked for information about its dark pools trading platforms.
The allegations claim that the banks, and others, broke the law by favouring aggressive "high frequency" traders.
In June, New York prosecutors alleged that Barclays had misled investors using a dark pools trading platform.
Barclays said it did not believe the legal action was justified and is trying to get the case dismissed.
UBS also paid 300m Swiss francs (£195.2m) to settle claims that it helped wealthy Germans evade tax.
'Strong results'
The bank's chief executive Sergio Ermotti said that the bank "continued to actively address litigation matters, reduce our non-core and legacy assets and execute on our strategic initiatives.'
"We delivered strong underlying results in a market environment that remained challenging for our clients and the industry."
The bank has reported a 15% jump in second-quarter net profit on the same period last year, with net profit rising to 792m Swiss francs (£516m), up from 690m Swiss francs previously.
The results were driven by the Zurich-based bank cutting down on its investment banking franchises.
US authorities including the Securities and Exchange Commission (SEC), the New York Attorney General and the Financial Industry Regulatory Authority (FINRA) are conducting the black pools investigation.
Looking ahead, the bank said the outlook is clouded by ``the absence of sustained and credible improvements to unresolved issues in Europe, continuing U.S. fiscal and monetary policy issues, increasing geopolitical instability and the seasonal decline in activity levels traditionally associated with the summer holiday season.''