Personal insolvencies in steepest rise for four years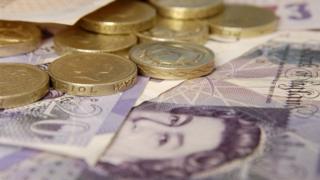 There has been a sudden jump in the number of individuals becoming insolvent, amounting to the steepest rise in more than four years.
Government figures show that 27,029 people in England and Wales became insolvent between April and June.
That is a 5.1% increase on the same period in 2013.
However, the number of people declaring insolvency in Scotland, where the law is different, fell to its lowest level since 2005.
Experts said the sudden increase was worrying, given that interest rates are expected to rise within the next nine months.
"If interest rates rise to a more normal level of 3%, a personal insolvency storm could be gathering," said Brian Johnson, of the chartered accountancy firm HW Fisher.
The Insolvency Service said the increase in England and Wales was driven by a 20% rise in the number of Individual Voluntary Arrangements (IVAs).
Paradox
One possible explanation for the rise is that IVAs have become even easier to access recently, with people using them to write off relatively small debts.
Whereas debts of £30,000 to £40,000 used to be typical, some insolvency practitioners are seeing clients with debts of as little as £5,000.
Paradoxically, the rise may also be the result of an improvement in the economy.
"As the economy starts to grow, people feel more confident about dealing with a five year repayment plan," said Andrew Tate, the deputy vice-president of R3, the insolvency trade body.
Other experts said that with rising property prices, creditors - including banks- are more likely to ask for their money back.
"There are many signs of a strengthening recovery including rising wages, record employment figures and increased retail spend: this, paradoxically, is another one of them," said Matthew Chadwick, a partner at the accountancy firm, BDO.
Companies
IVAs were introduced in 1987 to help people avoid having to declare bankruptcy.
The number of people taking out IVAs in the last quarter rose to 14,571, the highest number since they started.
The rate of insolvency has also increased for the first time since 2010, with 0.2% of the adult population declaring themselves insolvent.
The number of insolvencies peaked in 2009, at more than 35,000, and has declined since then.
The number of companies going out of business, however, is continuing to fall.
Voluntary liquidations in England and Wales fell by 18% over the year, to their lowest level since 2008.
Companies going into administration dropped by 35%, hitting the lowest total for nine years.