British Gas owner Centrica names Iain Conn as new boss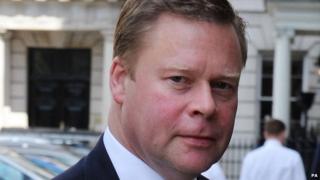 British Gas owner Centrica has announced the appointment of Iain Conn, currently BP's head of refining and marketing, as its new chief executive.
Mr Conn will take over from current boss Sam Laidlaw, who will retire from the board, at the start of next year.
He will be paid a basic salary of £925,000, with bonuses depending on hitting performance targets.
The announcement comes as regulators and competition authorities investigate the UK energy market.
'Sustainable approach'
"I am excited to be joining Centrica, a company which is leading the way in the provision of secure and reliable energy and services to customers in the UK and North America," Mr Conn said.
"I recognise the challenges which we face in rebuilding customer trust in the sector and helping to create an effective and sustainable approach to energy markets."
Centrica said it was working on a longer-term incentive scheme, but in the meantime Mr Conn could get a bonus in shares up to the value of his salary in April 2016, depending on whether performance targets are met.
He could also be awarded a bonus in shares of up to two times his annual salary in April 2017, which would be released in April 2018.
Ofgem is looking at rising bills, service quality and profitability of big energy companies, but will focus particularly on whether they can be both energy generators and retailers at the same time.