Indonesia's new mega-rich spend it big as inequality grows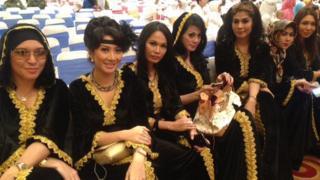 The masters of ceremonies at this charity gala in a flashy suburban Jakarta mall are in top form tonight, entertaining hundreds of orphaned children.
They laugh and applaud as a troupe of brightly coloured Sufi dancers swirl and twirl to Arabic music blaring from the speakers.
Surrounding the children are various stalls of food and sweet treats and a long table filled with goodie bags.
This is "Jakarta with Love", a breaking of the fast event, organised by some of Indonesia's richest wives and girlfriends.
"We collected 360m rupiah ($30,000; £18,000) for this event," Heidi, a beautifully made-up Indonesian socialite tells me, as she fans herself with her Gucci clutch bag.
"We want to give the joy we have in our lives to these little children," she says.
'It's not a bank'
This grand get-together is an "arisan" - a ladies club that combines saving with socialising.
It is a unique part of Indonesian culture, especially for those in the country's ultra-rich set.
Wulan and her friends are members of at least four of these ladies clubs.
"We collect money from all the members of the club on a monthly basis," she explains. "Then when it's your turn to draw the lottery, you win the pot. So it's like putting your money in a bank - but it's not a bank, it's a ladies club!"
But it's not just any old ladies club. Membership can come with a hefty price tag.
"The monthly amount you put into the pot can vary, from 1m rupiah to around 100m rupiah," says Wulan with a picture perfect smile. "Imagine the winnings then - each member walks away with $100,000 a month."
That's a fortune in this country where the minimum wage is around $250 a month.
But the women in this gathering are from some of the wealthiest families in Indonesia. Spending this kind of money is not a luxury for them - it's an expectation.
Bag ladies
At this event, they take selfies of each other with their blinged out mobiles. Others keep reapplying their makeup, as the bewildered children who this event is for look on.
All of the women have one thing in common - they are well-dressed, well-heeled and beautifully bagged.
The socialites carry some of the trendiest and most expensive handbags in town - worth tens of thousands of dollars.
This love for indulgence among Indonesia's wealthy set is helping other businesses grow.
"These women love to buy Hermes bags, or Chanel, or Louis Vuittons," Dini Indra tells me. She is the chief executive of Butterfly Republic and buys, sells and rents luxury handbags to Indonesia's aspirational set.
"My bags can cost you anywhere from $1,000 to $6,000, or even $50,000," she tells me in her studio in central Jakarta.
"I know it seems ridiculous but this kind of extravagance exists in Indonesia. A branded bag is not simply a luxury item for these women. It's a status symbol.
"We could buy a car or a decent house in Jakarta for that price - and sometimes it doesn't make sense to me, why they want to spend that kind of money, but they do. But it's great for my business."
Indonesia's new rich appear to be good for a lot of businesses, including legendary sports car maker Lamborghini.
It opened its doors in Indonesia in 2009 and since then the country has become its third largest market in the Asia-Pacific region.
"I think in a big city like this, maintaining the image of a good lifestyle is really important for young professionals," Johnson Yaptonaga, the owner of the Lamborghini showroom told the BBC.
"And owning an expensive car has become a trend for this group. Once you're in this community, you have to keep up with this lifestyle."
Surviving on $2 a day
But for many in Indonesia, life moves on a different track.
Rohma lives in a small slum near a railway track just a few kilometres from Dini Indra's branded bags studio.
It is one of hundreds of slums peppered across Jakarta.
The cheapest handbag in Dini's studio could pay Rohma's rent for a year.
She lives in a tin shack with her husband and seven children.
She has seen the fancy cars and houses that have cropped up just a few hundred metres away from her slum - but they might as well be on a different planet. Her reality is filled with feeding seven mouths.
"My husband used to drive a taxi, and now he does odd jobs," she says as she cradles a one-month-old baby in her arms - her first grandchild from her eldest son.
"I cannot see a good future for us, because my husband doesn't work that often while we have to eat every day. For me as a woman it's been very tiring because I have a lot of kids, and my husband doesn't make a lot of money, and I feel really tired."
Life by the railway tracks is grim and Rohma's story is not unique.
Two-thirds of Indonesia's population lives on $2 a day - perilously close to the poverty line.
The ranks of Indonesia's mega-rich may be growing, but so too is the gap between the rich and poor.