Lloyds half-year profits hit by PPI mis-selling charges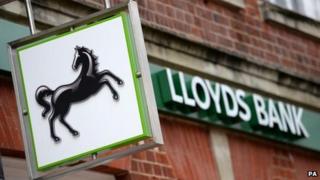 Profit at Lloyds Banking Group has fallen by more than 50% in the first six months of the year compared with the same period in 2013.
Pre-tax profit fell to £863m after a £1.1bn charge for "legacy issues".
These included £600m set aside for mis-sold Payment Protection Insurance and £226m to cover a Libor rate-rigging settlement.
However, Lloyds said it would go ahead with plans to restart dividend payments to shareholders.
"We substantially improved our underlying financial performance and delivered a statutory profit, despite further charges for legacy issues,' said Antonio Horta-Osorio, chief executive of Lloyds Banking Group.
The group made an underlying profit of £3.8bn. However, it was hit by charges relating to "legacy issues", including PPI mis-selling and a fine for rate manipulation.
Fines and compensation
The bank's total bill for mis-sold PPI now stands at more than £10bn, after it set aside an extra £600m to compensate customers.
Lloyd's also set aside £226m to cover a fine for rate-rigging.
On Monday, US and UK financial authorities fined Lloyds £218m for "serious misconduct" over some of the key interest rates set in London.
Regulators found that Lloyds rigged rates including the London interbank offered rate (Libor) for yen and sterling, and tried to manipulate the rate for yen, sterling and the US dollar.
Lloyds Group is part-owned by the government, which holds a 24.9% stake.
Dividend payments to Lloyds shareholders have been blocked since the bank was bailed-out in 2008.
The bank said it will go ahead with plans to ask permission to restart dividend payments at a "modest" level after its underlying profits jumped by about a third.
TSB profits
Michael Hewson, chief market analyst for CMC Capital Markets, told the BBC that there was a prospect of further fines related to foreign currency exchange price manipulation.
"I think that's what's weighing on the [Lloyds] share price this morning," Mr Hewson said.
Lloyds shares dropped about 2.7% in value on Thursday morning.
Lloyds has a 61.5% stake left in its TSB business after it floated on the stock market in June.
TSB reported on Thursday that its underlying profits fell about 17% to £78.6m in the first half of the year.
It attributed the fall to its no longer being able to benefit from the economies of scale that had been open to it as part of a larger group.