Market Basket: Workers risk it all for their boss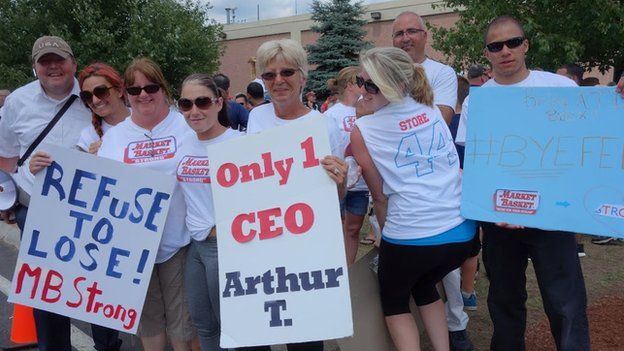 Arthur T Demoulas seems to have attended every wedding in the Boston area in the past 15 years. Every funeral too.
At least that's the impression you get when asking employees of Market Basket - the chain of more than 70 grocery stores Mr Demoulas ran up until June - why they have been on strike for the past two weeks.
These Market Basket workers - produce managers, warehouse stockers, truck drivers - say that they have not camped outside the company's headquarters here in Tewksbury, Massachusetts for the reasons others have gone on strike across the US for recently.
Simply put, they want one thing: Arthur T (or "Artie D" as he's called by a certain type of north-eastern Massachusetts accent) back as their boss, after he was sacked in a long-running family feud.
Of course, it is not just because of all of the weddings Arthur T attended that workers are protesting against his ousting - although his impressive ability to remember every one of his 25,000 employees' names surely doesn't hurt.
Rather, those employees view his firing and the subsequent leadership change - made at the behest of a board controlled by a rival faction of the Demoulas family - as eroding the company's commitment to middle-class workers and shoppers.
Market Basket stores are not Whole Foods - they do not sell $10 juice or filet mignon.
1917: First Market Basket store opens in Lowell, Massachusetts by Greek immigrants Athanasios ("Arthur") and Efrosini Demoulas
1954: Arthur and Efrosini sell their store to two of their six children, Telemachus "Mike" and George Demoulas
1971: George dies and Mike becomes the sole owner, setting off a series of legal battles about rights to the stores
1994: A judge rules Mike has defrauded George's side of the family of profits from the business and gives 51% of the company to George's family, which includes Arthur S Demoulas
2008: Arthur T Demoulas is elected president of the corporation
25 June 2014: Arthur T is ousted as president by the board of directors, controlled by Arthur S; new co-chief executives, James Gooch and Felicia Thornton are appointed
20 July 2014: Market Basket fires eight workers who were trying to get Arthur T reinstated
23 July 2014: Arthur T says he and his side of the family will try to buy the share of Market Basket owned by Arthur S
30 July 2014: The board says it will hold a job fair on 4 August to replace workers who have been fired or are protesting
They are distinguished from their competitors in the area - Shaws, Star Market, and others - by their commitment to one thing: the lowest prices around.
John Connor and his family have been shopping at Market Basket their entire lives. He came out to protest at the company's headquarters because he says that where he lives, many people - including elderly customers - depend on Market Basket for low-cost food.
"If you take the lower price away from us, you might as well bury all of us," he says.
However, Market Basket's low prices are not as a result of low-paid workers.
It is in fact the opposite - starting wages at the company are $12 (£7) an hour, well above minimum wage - and there is a profit-sharing plan with employees. Benefits, including healthcare and paid sick leave, are given to everyone.
That is why workers like Robert Rhind tend to stay for decades, which help keeps training costs low. He's been with the company for 16 years and is currently the director of the bakery at the North Andover Market Basket.
"I didn't start at the top, I worked my way through just like everyone else in management," he says.
"15 years later I wouldn't work for anyone else - it's a true family feeling and I get great benefits for my kids."
Even with the low prices and the high salaries, Market Basket is reported to be quite profitable - making an estimated $217m in profit on $4.6bn of revenues last year.
Even so, the members of the Demoulas family who control the board, and are led by Arthur T's cousin Arthur S, reportedly wanted more profit to be paid to shareholders.
While the specifics of Arthur T's firing in June have to do with a family long-riven by internal conflicts, to Market Basket workers and customers who have protested against the decision, it came down to one thing. "The people aren't as important to the board as the cash is," the protesters say.
In other words, in the struggle to determine how much profit shareholders should get versus how much money should be reinvested in the business, the board chose the wrong side.
And that has come with dire consequences.
There have been two weeks of protests, sparked by the firing of employees who had petitioned to have Arthur T reinstated, which have left the shelves and aisles at most Market Baskets bare.
According to one estimate, the company is losing $10m a day.
"It's not good for the company, for its reputation, to have protests," says Harvard Business School professor John Davis.
"It is a really serious, but not necessarily fatal, blow - you can't continue very long doing this or people become disillusioned and it could be hard to restore goodwill."
The current Market Basket chief executives have sought to allay employee fears and get them back to work.
Although the board, the chief executives and Arthur T all declined to comment for this story, in a statement on Wednesday the chief executives said: "We want Market Basket associates back to work and reiterate that they can return without fear of penalty."
However, as a result of the disruptions they said they would be holding a job fair next week to recruit staff.
That led to led another rally on Thursday by employees, where goodwill was in short supply.
One sign compared Arthur S to a terrorist, and the near constant honking of car horns stood as a testament to just how much the community supported the rights of workers to strike in favour of their boss.
But it is not just locals supporting the cause.
The plight of these workers at a fairly unknown grocery chain has struck a chord nationally - with some commentators calling their efforts "the supermarket uprising" and "the last stand for the middle class".
That is because the fight seems to encapsulate everything that is wrong with corporate America.
Ever since the recession, lower and middle-class Americans have felt as if those as the top are taking more than their fair share, choosing profits over building businesses.
A separate study found that in the US, the wealth of 16,000 families was equal to that of the bottom two-thirds of American families.
Here in Tewksbury, Massachusetts - where the middle class has long been under attack - people have said enough is enough.
While the fate of Market Basket remains in the air as the board debates bids for the company, judging by the honking of car horns as well as the dozens of pizzas and doughnuts delivered by supportive business and customers - the effort seems to be gaining traction.
"I'm standing for what's right - I'm standing for what I believe in," says employee Jenifer Gil.
The success of the worker protests and customer boycott is apparent at the Market Basket in North Andover, Massachusetts.
It looks as if the apocalypse has hit: there is no produce, no meat, and there is only a single cashier, whose cash machine echoes in the vast space.
"Typically there'd be over 100 customers at any given time in this building," says manager Joe Amaral. "Now there are just three or four people."
Most of the workers at the store, at a loss for something to do, have taken to protesting outside. In a twist, it is the customers who have been delivering food to them - this being Massachusetts, a daily delivery of Dunkin' Donuts has been standard, as well as less obvious treats, like oranges and bushels of corn.
"There is nothing left to do except watch the clock and hope for the best at headquarters," says Mr Amaral.