Adidas scales back in Russia and issues profit warning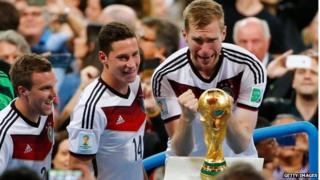 Shares in sportswear maker, Adidas, have tumbled after the company issued a profit warning and said it will open fewer stores in Russia than planned.
The German sports equipment maker saw its shares fall 16% on Thursday, despite its recent lucky strike as sponsor of World Cup winners Germany.
Adidas blamed uncertainty in Russia and higher marketing spending during the World Cup for the problems.
It said net income could be nearly a third lower than forecast.
The company said net income for 2014 would be around 650m euros (£515m) compared to the 830m-930m euros previously targeted.
Adidas runs 1,000 stores in Russia but, due to a fall in the value of the rouble and uncertainty in the consumer market there since the start of the Ukraine crisis, the company will now close some of them and open fewer new stores than planned.
'Catastrophic'
The company will also overhaul California-based golf brand TaylorMade, which makes golf bags, clubs and clothing for the US market after an 18% drop in sales.
"Everything we announced today has one objective: to strengthen our brands, to drive consumer desire, and to set our group up for long-term success," chief executive Herbert Hainer said in a statement.
"We will return the group to a higher and more consistent level of earnings growth in the mid to long term."
Ingo Speich, a fund manager at Union Investment, a large investor in Adidas, said: "The profit warning could almost have been predicted but the extent of it is catastrophic...unfavourable conditions are no excuse."
Adidas vies with rival Nike, the world's biggest sportswear firm for market share. But Adidas had taken a lead in the Russian market.
Nike is making gains in Europe, Adidas' home turf. But Adidas has recently taken over from Nike as sponsors of Manchester United in a record $1.3 bn (£770m) deal.