Airline group IAG moves into profit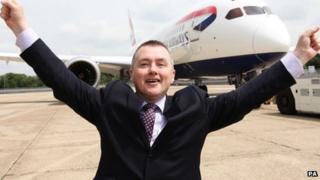 British Airways owner IAG has moved into profit for the first half of the year after an improved performance from its Spanish airline, Iberia.
The group made a pre-tax profit of 155m euros ($207m; £123m), compared with a 177m-euro loss a year ago.
Iberia, which has been loss-making for a number of years, made an operating loss of 95m euros.
Last week, it signed an agreement to shed an extra 1,427 jobs, IAG chief executive Willie Walsh said.
In early trading on Friday, IAG shares increased more than 4% in value, but dropped back again later in the morning.
"This performance shows that we are making further solid progress," Mr Walsh said in a statement.
Group passenger numbers increased to 35 million from 29 million in the first half of 2013.
Mr Walsh said that Iberia's restructuring "continues to have a positive impact" on the group, and that 16 new aeroplanes had been ordered for the Spanish airline.
Eight Airbus A350-900s and eight Airbus A330-200s will be joining its long-haul fleet, he said.
Iberia narrowed its operating losses from 551m euros the year before. In 2013, the Spanish airline's losses acted as a drag on the profits made by BA and low-cost airline Vueling.
In the first half of 2014, BA made a profit of 327m euros.
IAG said it would aim to make its flights more cost-efficient by cutting planned capacity on flights by three percentage points for the winter 2014 season.
The cuts are mainly due to slower-than-expected growth on transatlantic routes, the firm said.
"We continue to see it as a growth market, but we're going to adapt our capacity to better match the rate at which the market is growing," Mr Walsh said.
Investment banking firm Jefferies said that the airlines' capacity plans provided "relief".
"IAG is not immune from the pricing pressures of industry capacity expansion, but structurally it is better protected," Jefferies said in a note to clients.