Iliad shares plummet following bid for T-Mobile US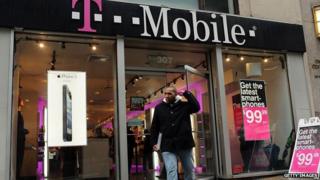 Shares in French start-up company Iliad have seen a fall of 13%, their biggest drop in eight years, after the firm made a bid for T-Mobile US.
On Thursday, Iliad made a cash offer of $15bn for 56.6% of the US company.
Before Iliad's bid, T-Mobile US had been expected to conclude a tie-up with US rival Sprint Nextel.
T-Mobile US, controlled by German company Deutsche Telekom, is almost 60% larger than Iliad. Its shares rose 6.5% following the announcement.
Sprint's Japanese parent, SoftBank Corp, and Deutsche Telekom had already loosely agreed to a deal.
Iliad said: "The US mobile market is large and attractive. T-Mobile US has successfully established a disruptive position which, in many ways, is similar to the one Iliad has built in France."
Paul Gallant, an analyst at Guggenheim Securities in Washington, said: "I suspect this [Iliad] deal would get through Washington much easier than the Sprint deal. I don't see any real red flags that would complicate it.
"There don't appear to be any competition issues the way there would be with a Sprint deal. That's the biggest difference and that's significant."
John Bergmeyer, of the consumer group Public Knowledge, said the Iliad deal was favourable because "it wouldn't result in a loss of competition".
Iliad is founded by Xavier Niel, a billionaire French entrepreneur, who is part-owner of the newspaper Le Monde.