Sharp posts a 55% rise in operating profit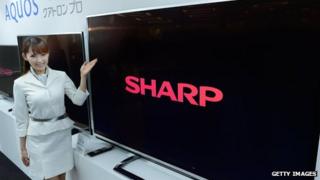 Japanese electronics maker Sharp has reported a 55% year-on-year increase in its operating profit for the April-to-June quarter, beating forecasts.
The results are due in part to healthy sales of the firm's liquid-crystal display (LCD) televisions in some countries including China.
The electronics giant posted $45.36m (4.67bn yen; £26.8m) in overall operating profit for the period.
Sharp is Japan's largest maker of LCD screens and its third-largest TV maker.
LCD screens are used in televisions, as well as some smartphones, including Apple's iPhone.
Some reports say the firm is already producing screens for Apple's next smartphone, the iPhone 6, which is due for release next month.
The electronics giant noted that Japan's economy had showed a moderate recovery during the quarter, "despite a partial downturn in personal consumption stemming from slow demand in the wake of the consumption tax hike".
Japan introduced its controversial new sales tax in April this year.
Other factors
Headquartered in Osaka, Sharp recently implemented a major restructuring programme as it struggled against slowing demand for its products, growing competition and a strong Japanese currency.
The restructure, which included job cuts, has had some impact on its performance in recent months.
As part of its growth plans, Sharp has said it is focused on establishing five areas of business, including healthcare and medical services, robotics and education among others.