European firms count Russia sanctions costs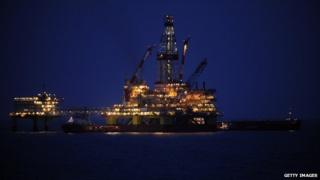 Around Europe, companies of all shapes and sizes are assessing the impact of the sanctions imposed by the EU this week following America's lead.
Obvious candidates such as the targeted oil and banking sectors came under immediate pressure.
Oil giant Royal Dutch Shell mothballed a $10bn shale gas venture in eastern Ukraine.
Meanwhile, rival BP, which has a 20% stake in Russian energy giant Rosneft, warned that its business could suffer.
Shares tumble
Shares around the world had one of their worst weeks of the year as the potential impact of sanctions added to heightened geopolitical tensions.
The German Dax blue-chip stock market was down more than 5%.
Deutsche Bank and Societe General, which have significant Russian businesses, both suffered sharp falls in their share price this week.
But the strain also began to show in areas not specifically targeted.
Sportswear manufacturer Adidas saw its shares tumble as it said it would scale back its presence in Russia, while Volkswagen reported an 8% decline in Russian sales.
Pain 'felt acutely'
And it was not just companies that were warning of trouble.
Countries close to Russia are revising the outlook for their economies.
The Polish prime minister said sanctions would knock 0.6% off Poland's GDP by year-end. At the same time, German Ifo business confidence - a closely watched economic barometer - showed a big fall.
But the pain is being felt most acutely so far by Russia. Vladimir Putin introduced a new sales tax this week to help compensate for the likely reduction of the contributions that state-owned banks and arms sales make to state revenues as a result of the sanctions.
It will heap more pressure on consumers, already struggling with inflation at 8% and a recent rise in interest rates. Higher taxes are unlikely to help an economy teetering on the brink of recession.
Sanctions working?
Opinion on the efficacy of sanctions is divided.
US commentators point to the success of sanctions on Iran, but those were much more far-reaching, including a total oil and gas embargo - almost unthinkable in the case of Russia, which supplies 40% of Germany's gas.
Russia's envoy to the European Union was quoted in the state run Itar-Tass news agency as saying they did nothing to de-escalate the situation in Ukraine.
European leaders were under pressure to follow the lead shown by the US and that was intensified by the downing of MH17.
It was inevitable that EU interests would suffer more than those of the US, thanks to closer trade links.
The beneficiary of this stand off may be Asia. Megafon, Russia's second largest mobile phone operator, said this week it had converted 40% of its cash holdings to Hong Kong dollars held at Chinese banks.
After decades of ever-closer integration with the West, Russia may increasingly look east for friends.