Leaseholders should get new rights, says CMA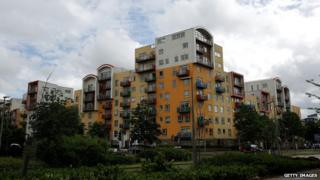 Millions of leaseholders who are unhappy with their property managers should be given new rights, an official inquiry has suggested.
The Competition and Markets Authority (CMA) said some leaseholders experience "excessive charges" and "poor service" from property management companies.
But the CMA - whose study is ongoing - has decided not to refer the issue for a full market investigation.
The report was welcomed by the property management industry.
Around five million homeowners in England and Wales would be affected.
Most complaints relate to ground rent, service charges or maintenance and repair funds, over which leaseholders can have little control.
The CMA said such charges could be a source of "frustration, suspicion and tension".
It also said that freeholders might not always be interested in the quality of repairs, or whether such work was necessary in the first place.
And it claimed that they might also be influenced by the level of commission they received on buildings insurance policies.
House price calculator
Use our calculator to see where you can afford to rent or buy
Transparency
"Whilst the market works well for some leaseholders, our emerging findings suggest that improvements may be needed in a number of areas," said Rachel Merelie, the CMA's senior director of delivery.
As a result, it is suggesting:
improved transparency, so property managers can be better held to account
switching property management company should be easier
leaseholders should be given new rights to act together, such as through residents' associations
leaseholders should receive clear information - for example, about repair estimates
property managers should be given incentives to provide value for money
The suggestions were welcomed by the Association of Residential Managing Agents (ARMA), which represents property managers.
"This is a welcome initiative by the CMA that could improve the situation for leaseholders and managing agents alike," said Ben Jordan, ARMA's chairman.
The CMA's investigation was launched by its predecessor, the Office of Fair Trading, in March 2014.
It will publish its final conclusions before the end of the year.