US economy adds 209,000 jobs in July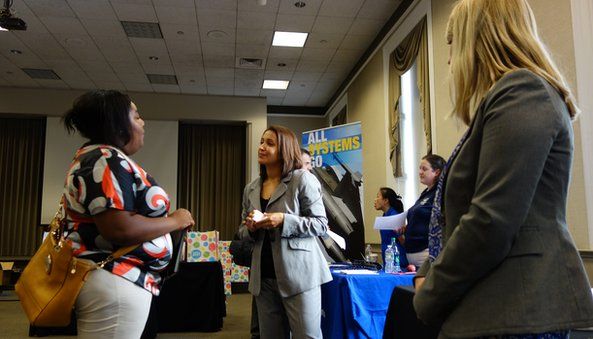 The US added 209,000 jobs in July, adding to optimism that the country's recovery continues apace.
The biggest job gains were in professional business services and manufacturing jobs.
On Wednesday, the Commerce Department said the US economy grew by a better-than-expected 4% during the April-to-June period.
In an encouraging sign, the number of people in the US labour market increased slightly, meaning that workers who may have given up looking for a job have now begun to re-enter the jobs market.
The May and June jobs data were also revised upwards to show that the US economy added 15,000 more jobs.
Some economists had been expecting even larger figures, and US stock markets were down on the less-than-expected gains.
The Dow dropped nearly 80 points, following steep losses the day before.
Nonetheless, most analysts agreed that there was nothing obviously negative about the report.
"The downward trend [in the unemployment rate] remains intact, but there will be bumps along the way to normalcy," wrote US investment bank Jefferies in a note to clients.
July is often one of the weaker months for jobs growth, which is one possible reason for the uptick in the unemployment rate.
However, the figures are encouraging, as the US economy needs to add at least 150,000 jobs each month simply to keep up with population growth.
This is the sixth straight month that the US economy has added more than 200,000 jobs.
Yet there are still reasons to be concerned: wage growth remains flat and the number of long-term unemployed - those out of work for longer than six months - was essentially unchanged at 3.2 million, or a third of those looking for work.
US Federal Reserve chair Janet Yellen recently highlighted that while the employment data is certain better than in the aftermath of the 2008-09 recession, challenges remain.
"In the aftermath of the financial crisis, I was pushing you so hard, you couldn't get to where you wanted to go.
Now that the economy is recovering, she said, "I'm pushing you a little less hard, so you're able to make some forward movement.
"But I'm still pushing you."
That's a tension that was on display at a job fair in Boston, Massachusetts, on Thursday, where a handful of employers were greeted with a deluge of resumes.
Dwayne Burgess was one of those looking for work. He says he has applied for more than 20 jobs in the past six months that he has been unemployed.
"It is very tough out there - employers now have a ton of people to search through and they're looking for that perfect person," he says.
"You really have to be competitive with that next person in front of you."