HSBC bank's half-year profits fall by 12%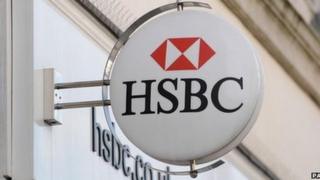 HSBC's pre-tax profits fell by 12% in the first half of 2014 compared with the same period a year before.
Profits were $12.34bn (£7.33bn), from $14.071bn twelve months earlier.
During the half-year, the bank also put aside some $234m for its "customer redress programmes", to cover the cost of things such as mis-selling Payment Protection Insurance (PPI).
Europe's biggest bank said that it hoped to reduce the "severity of future customer redress" costs.
As well as covering mis-sold PPI, HSBC customer redress costs include such matters as disputes over advice given by its wealth management arm, and for mis-sold interest rate swaps.
The redress figure for the first half of this year is down from the $412m set aside in the first half of 2013.
'Unprecedented' demands
Stuart Gulliver, HSBC group chief executive, said: "These results demonstrate the resilience of our business model. Whilst regulatory uncertainty persists, our balance sheet remains strong and our continuing ability to generate capital supports both growth and our progressive dividend policy."
But the bank did say it was facing challenges from regulatory reforms around the world.
"The demands now being placed on the human capital of the firm and on our operational and systems capabilities are unprecedented," it said.
"The cumulative workload arising from a regulatory reform programme that is unfortunately increasingly fragmented, often extra-territorial, still evolving and still adding definition, is hugely consumptive of resources that would otherwise be customer-facing."
HSBC says it spends £750m to £800m per year on regulation and compliance at the moment and suggests "there may be more money that needs to be spent on this area" despite almost getting to the point of a "steady run rate".
Turnaround plan
The half-yearly profits fall was mainly due to a weak first quarter. Profits for the first three months fell by one-fifth from 2013, when the bank's revenues had been boosted by asset sales.
HSBC, which does most of its business in Asia, says it is looking to make the bank less complex, more efficient and able to deliver better returns for shareholders.
So far it has shed 40,000 jobs and sold or closed 60 businesses, which it says has resulted in savings of more than $5bn.
In London trading after the profits announcement, HSBC's share price was up by 1.68% to 639.90 pence.