HSBC admits to paperwork error on loans and plans interest refunds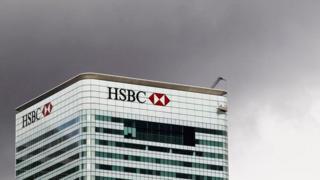 HSBC is expecting to pay back $367m (£218m) of interest payments to some UK customers owing to mistakes in paperwork for personal loans.
The bank has admitted to failing to include information in annual statements relating to the option for customers to make overpayments.
This is required in the UK under the Consumer Credit Act.
The bank outlined the provision in its results for the first half of 2014, but suggested no customers had lost out.
A spokesman for the bank said there had been "no financial detriment" suffered by customers as a result of the error.
Omission
Under the rules, banks must explain to loan customers that they can make overpayments or partial overpayments on top of their regular repayments.
HSBC included this in the initial paperwork when customers took out a loan.
But the bank has admitted that when it sent annual statements, reviewing the latest status of loans, these details were omitted.
A spokesman said that the error went back a couple of years, but had now been corrected.
However, HSBC's half-yearly results state that $367m had been set aside for "provision arising from a review of compliance with the Consumer Credit Act in the UK".
The error was spotted during the bank's own review, but it is understood that regulators are aware of the issue.
Details of the exact timing of interest refunds, and which customers would receive them, have yet to be outlined.
Mis-selling bill
The provision potentially adds to a bill for providing consumer compensation.
Included in the half-yearly report are figures that show HSBC put aside $234m (£139m) for "UK customer redress programmes".
This included $194m (£115m) for payment protection insurance mis-selling compensation, taking its total bill for that matter to $3.4bn (£2.1bn). There was also $40m (£24m) set aside for the mis-selling of interest rate hedging products, taking that total to $901m (£536m).
Overall, the bank reported that pre-tax profits fell by 12% in the first half of 2014 compared with the same period a year before, from $14.071bn to $12.34bn.