Toyota sees small rise in quarterly profits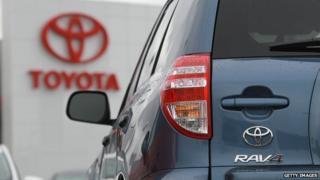 Japanese carmaker Toyota posts a small increase in quarterly profit for the three months to June, as strong sales in North America and Europe offset a drop in Japan.
Net profit amounted to 587bn yen ($5.7bn; £3.4bn) which is a 4.6% increase from a year ago.
Total group sales for the quarter rose 2% to 6.39 trillion yen.
But domestic sales fell by nearly 10% from a year ago. In April, Japan raised its sales tax to 8%, from 5%.
The hike in the tax led to many consumers putting off purchases on big-ticket items.
Toyota sold about 207,000 vehicles in Europe in the three months to June from a one year ago. That is an 8% jump.
Meanwhile, sales in North America rose by 3% to just over 710,000 vehicles.
In its latest earnings statement the carmaker made no mention of whether a recent spate of vehicle recalls will have any impact on its future finances.
Settlement
In April, Toyota recalled 6.4 million vehicles globally, including more than 35,000 cars in the UK.
Some 3.5 million vehicles were recalled to replace a spiral cable attached to the driver-side airbag.
In March this year the Japanese carmaker reached a $1.2bn (£720m) settlement with US regulators after a four-year inquiry into its reporting of safety issues.
The criminal investigation came after Toyota recalled more than 10 million vehicles over issues with brakes, accelerator pedals and floor mats.
Attorney General Eric Holder said Toyota had "intentionally concealed information" about the problems.
The settlement marked the largest criminal penalty yet imposed on a carmaker in the US.
Toyota's latest results outperform its US rival General Motors (GM), which last month reported a net profit of $190m for the April to June quarter.
That was after setting aside $1.5bn to cover its own vehicle recall costs.
GM has recalled nearly 29 million vehicles this year, mostly due to faulty ignition switches.