Why some feminists say women bosses are just 'a decoy'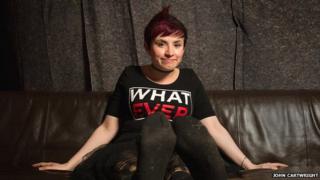 The prospects for women in business have never seemed brighter. There are more women in executive positions than ever before - business women are becoming vocal and their books are becoming bestsellers.
Yet, despite all this - a new wave of feminists says that in reality, this is all one big lie.
"The women in boardrooms initiatives seem to me to be a decoy," says feminist Laurie Penny, in her new book Unspeakable Things - Sex, Lies and Revolution.
"This idea that magically putting women in boardrooms would sort out women's rights and economic injustice is just to fob us off.
"It's a policy designed to make headlines, whilst never really talking about race, or class, and never talking about money. For many people, what gender is about is economics."
Certainly the figures on the percentage of women in corporate boardrooms are varied.
In Norway, 43% of directors are women whereas in Japan the figure is just 1.1%, according to Catalyst, a group that promotes the role of women in business.
"For women, men are still their biggest economic problem," argues Laurie.
"Women-in-boardroom initiatives are based on a few select women being allowed in to the old boys' network.
"There is no trickle-down feminism that actually improves the lives of women."
Proportion of women in boardroom roles
Norway - 40.5%
Sweden - 27.0%
United Kingdom - 20.7%
United States - 16.9%
Germany - 14.1%
China - 8.1%
Brazil - 7.7%
Russia - 4.8%
India - 4.7%
Japan - 1.1%
Source: Catalyst
Lack of progress
However, others disagree with this argument that putting women in boardroom roles is mere window dressing - it can provide women with role models, and can help to change ingrained corporate cultures.
Deliotte, one of the world's biggest auditing companies, has just published an extensive report on the global picture of women in boardrooms, and Dan Konigsburg, its corporate governance director, says the power of these initiatives should not be underestimated.
"I think calling women in business initiatives window dressing is misguided - and shows a misunderstanding of how boardrooms work.
"Having said that, if you're asking for real evidence that shows there's a correlation between placing more women in boards and corporate performance, the evidence there is very mixed.
"That is the holy grail of folks who want to show that there is a connection. Truthfully, the number of women in positions of business seniority is appalling," Mr Konigsburg said.
Even after 50 years of improving corporate success for women, "progress hasn't been that great, certainly not at the very top," says Katherine Spillar of the Feminist Majority Foundation in California.
"So I think the attention to corporate and business practices does make sense. This old boys' network in business is very hard to break, very hard to break."
In the US, she says, "women are the majority of college graduates and the majority of PhDs and higher education - and we still can't break that old boys' network lock."
Shareholders 'need to speak up'
At Deloitte, Dan Konigsburg says there is a flaw in too many of the initiatives to appoint more women to board level roles.
"Too often, these initiatives are owned by the human resources department. What we really need is for chief executives to start setting targets and making programmes.
"Also, shareholders - who ultimately own the company - need to speak up and ask for change. We find also that women tend to just let their work do the talking - men are more vocal at talking themselves up."
Even though Scandinavian countries do generally have higher percentages of women on company boards - the changes have not come without protest, says Katherine Spillar.
When Sweden decided to bring in corporate gender equality policies, "some companies moved their corporate headquarters out of Sweden, they were so reluctant to have women on their corporate boards," she says.
Indeed, despite the varied progress that there has been - many argue that globally, too many firms seem to be resting on their laurels when getting women in to positions of corporate power.
'Economic injustice'
Recently, the British writer Caitlin Moran talked of 'economic misogyny - while in India, feminist Shabana Azmi says one of India's biggest businesses, the Bollywood film industry, is failing to portray women in a fair light on camera because there simply aren't enough of them behind the camera.
"You might ask, do feminists hate business?" says Laurie Penny. "I think the more important question is, does business hate women?
"When we talk about economic injustice and what the business community can do to change that, we are talking about feminism - even if we don't use those words."
You can hear more on this story on World Business Report on BBC World Service