Carr Review to make no recommendations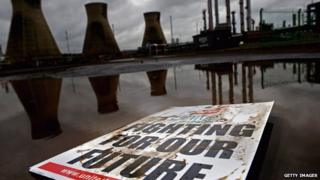 The QC leading an inquiry into trade union tactics during industrial disputes has said he will not make any proposals for a change in the law.
Bruce Carr was asked to examine whether the law needed changing to prevent "intimidation" and "harassment".
But he said he had become "increasingly concerned" about his ability to gather meaningful evidence.
He said the "politicised environment" in the run up to the election made an objective review difficult.
Prime Minister David Cameron launched the Carr Review in November last year.
It followed claims that Unite union sent a "mob" to the home of a refinery manager at Grangemouth petrochemical plant during a dispute between management and workers.
Accusations at the time suggested the inquiry was politically motivated.
'Not possible'
"I have become increasingly concerned about the quantity and breadth of evidence that the review has been able to obtain from both employers and trade unions," said Mr Carr.
"I am also concerned about the ability of the review to operate in a progressively politicised environment in the run up to the next general election.
"That being so, I have reached the conclusion that it will simply not be possible for the review to put together a substantial enough body of evidence from which to provide a sound basis for making recommendations for change."
Mr Carr said he would still produce a report on union actions during industrial disputes "by the early autumn".
'Political stunt'
Unions lined up to criticise the government over the review.
"The Tories have spectacularly shot themselves in the foot on this," said Unite general secretary Len McCluskey.
"In their haste to attack trade unions, they have embarrassed their own appointee, Bruce Carr, into accepting this report for what it was all along - a desperate pre-election stunt to smear democratic trades unions and their members."
The TUC union general secretary Frances O'Grady said Mr Carr had been "cynically used by the government in a party political stunt for the Conservative Party".
"The Conservative Party should now repay to the taxpayer the costs of the inquiry".
According to the Cabinet Office, Mr Carr is being paid £1,500 per day.
The number of days he has worked will be published along with the overall costs of the review "in due course" said the Cabinet Office, which maintained the review had been a necessary and worthwhile exercise.
"This is an important issue for the public and taxpayer which is why the government commissioned an independent review," it said.
"We respect Bruce Carr's decision to change his report as he sees fit and will consider any evidence presented very carefully. We look forward to receiving it."