China 'to punish' Audi and Chrysler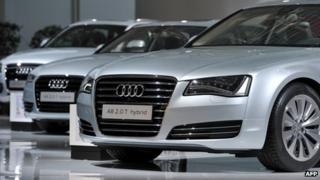 China's regulator has said it will "punish" carmakers Audi and Chrysler for "pursuing monopoly practices" following competition investigations.
A spokesman from China's regulatory body said: "It has been found that the two companies did have monopoly behaviour and they will be punished accordingly in the near future."
The regulator did not clarify what it meant by "monopoly behaviour".
The ruling follows increased scrutiny on foreign firms in China.
Audi is a unit of German carmaker Volkswagen, while Chrysler of the US has recently merged with Italy's Fiat.
Co-operating
The investigations are being led by China's National Development and Reform Commission (NDRC).
---
Analysis: By John Sudworth, BBC News, Shanghai
There is a feeling of vulnerability among foreign companies in China nowadays.
"Is no foreign brand safe in China?" Time magazine asked last week.
Multinational corporations, some observers suggest, make convenient political scapegoats for a government keen to show it is fighting for the consumer and tackling abuses of corporate power.
But China can claim, to some extent at least, that it is tackling a genuine problem: the perceived gap in pricing between goods sold in China and foreign markets, a gap not lost on the increasing numbers of affluent Chinese travellers now shopping overseas.
Some sectors, particularly the luxury car makers, claim that China's own heavy import duties account for much of the increase in their prices. Chinese state media, on the other hand, has accused them of using their monopoly power to their own advantage.
Whatever the truth, there is one political dimension to all this that is certain.
Unlike in other markets, there is little chance of challenging state-led investigations in the Chinese courts.
Once the Communist Party has decided you're fleecing consumers, you have one choice.
Fall in line, pay the fines and reduce your prices, and some foreign corporations have been doing exactly that.
---
In a statement emailed to the BBC, Audi's office in China said: "We can confirm that the Hubei Price Bureau is investigating the dealership network of the FAW-Volkswagen Audi Sales Division Audi in Hubei province.
"Audi and its Joint-Venture FAW-Volkswagen support the government investigation and co-operate with the NDRC."
The company also said it had no further comment before the investigation was finally concluded.
The Chrysler office in China could not be reached for comment.
NDRC spokesman Li Pumin also confirmed an investigation into Mercedes-Benz, which is a unit of Germany's Daimler.
Earlier this week, NDRC officers raided a Mercedes office in Shanghai.
According to state news agency Xinhua, "inspectors are still collecting evidence and investigating whether Mercedes-Benz has used monopolistic tactics".
China has been conducting frequent probes into the practices of foreign companies, including those in the pharmaceuticals industry, as well as technology.
Crackdown
Last month, China's State Administration for Industry and Commerce - the body responsible for enforcing business laws - said it was looking into "alleged monopoly actions" by US tech firm Microsoft.
The announcement came after officials from the regulator visited some of Microsoft's local offices.
The NDRC - one of three government anti-trust agencies in China - is in charge of the examination and regulation of price-related monopolistic practices.
Mr Li says the agency started launching anti-monopoly probes into China's car industry at the end of 2011, with the aim of safeguarding competition in the market and protecting customers' legitimate rights.
He added that the NDRC had also recently finished investigations into 12 Japanese companies and discovered monopolistic behaviours in prices of car parts and bearings. The Japanese companies will also be punished in accordance with Chinese law.