Molson Coors shares surge on quarterly results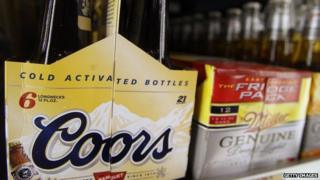 Shares in brewer Molson Coors have surged 6% after the company reported strong earnings.
The firm reported net income of $291m (£173m) in the second quarter, up 9.5% compared to the same quarter of 2013.
The company said it was helped by a "positive pricing" environment and savings on costs.
In Europe, the volume of beer sold fell 1.3% which Molson Coors blamed on serious flooding in parts of Serbia, Bosnia, Croatia and Bulgaria.
But strong sales in the UK, Hungary and Czech Republic helped offset that weakness.
In a statement with the results, Molson Coors chief executive Peter Swinburn said: "In the second half of 2014, we will manage through the aftermath of the flooding in Central Europe and the loss of the Modelo brands in Canada.
"We also expect higher brand investments in all of our businesses, which is part of our strong and consistent execution of our brand-led profit growth strategy."