Rio Tinto profits rise as debts and costs are lowered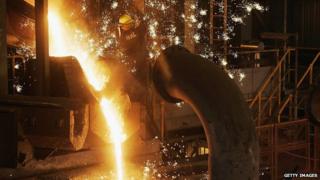 Anglo-Australian mining group Rio Tinto has reported a 21% rise in half-year profits to $5.1bn (£3bn).
Rio has been cutting back debts built up in a surge of acquisitions under previous chief executive Tom Albanese.
Sam Walsh, who replaced Mr Alabanese 18 months ago, said net debt had been cut by $6bn from a year ago.
He said: "We delivered what we said we would, exceeding our $3bn operating cash cost reduction target six months ahead of schedule."
In July, Rio announced it would sell off its Mozambique coal assets for just $50m, part of Riversdale Mining which it bought for $3.7bn in 2011.
In the past six months it has cut its workforce by 2,200, and Mr Walsh said although another $1bn would be cut from costs by the end of next year, the rate of savings would slow this year.
Chinese demand
Mr Walsh said the group shipped record iron ore volumes, and set production records for iron ore and thermal coal.
The company is increasing its six-month dividend to shareholders by 15%.
But a slump in commodity prices because of a slowdown in demand from China sliced $1.39bn from underlying earnings.
Much of the reduction in Chinese demand for iron ore came from the slowing construction industry.
Rio now sees the slack there being taken up by renewed demand for machinery and infrastructure and China's own exports of finished steel products.
It expects steel demand in China to grow 3-4% this year.