A third to access flexible pension, says HMRC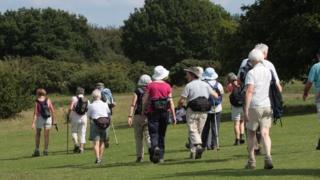 An estimated 130,000 retirees a year will take cash out of their pension pot under new flexibility rules, the UK tax authority has estimated.
In his Budget, Chancellor George Osborne said savers would be able to use their pension pot as they saw fit.
This means retirees can take their pot in cash, although the majority of this would be taxed, from April 2015.
In a policy impact document, now published, HM Revenue and Customs said a third would use the option.
About 400,000 people would have the chance initially, with 130,000 estimated to do so, HMRC said.
'Huge step'
Up until now, most people in defined contribution schemes - where the final pension depends on the amount of investment returns - bought an annuity, a pre-set income for life, from a provider when they retired.
But from next April, people from the age of 55 will be able to take the cash - although only the first 25% of this would be tax-free, and the rest would be subject to income tax.
"Tax could easily wipe out a sizeable chunk of people's pension savings, potentially taking many people into the higher rate tax band who have never paid tax at that rate before," said Tom McPhail, head of pensions research at Hargreaves Lansdown.
"Trusting people to act responsibly with their pension savings is a huge step forward, but it is essential to back this with the right guidance and advice."
But Paul Green, from Saga, said the organisation had asked 2,400 people aged over 50 about the new rules, with only 15% replying that they planned to cash in their full pension pot.
"We found just 23 people who said they planned to blow it on a Lamborghini and living the high life," he said.
"Over half say they plan to use funds to secure a future income for their retirement. It is vital that people are properly advised about the tax implications of withdrawing more than 25% of their pension pot before they do something that they may live to regret."
The impact document confirms figures published in the Budget, estimating that the extra tax revenue going to the Treasury totalled £320m in 2015-16, rising to £1.2bn in 2018-19.
Taxing pensions - examples
A basic rate taxpayer has an existing income of £20,000 and a pension pot of £50,000. If that pot was taken as cash, the first £12,500 would be tax-free. The tax on the pension pot would be £10,627. Their effective income tax rate would be 21%.
A higher rate taxpayer has an existing income of £85,000 and a pension pot of £50,000. They would have an effective tax rate of 38% if the pension pot was taken as cash.
An additional rate taxpayer with an existing income of £155,000 and a pension pot of £50,000 would have an effective tax rate of 33.75% if the pension pot was taken as cash.
Source: Hargreaves Lansdown
Annuity sales
Individuals will still have the option to buy an annuity with their pension pot, or another form of retirement product.
HMRC estimates that about two-thirds of retirees will do so, or leave their savings in a pension pot for the time being.
The update comes after reports suggested that the new flexibility rules had made pensions more attractive, but had eaten into annuity sales.
In its Accounting for Pensions report, LCP said there was already evidence that the policy encouraged extra pension saving, although there were still some challenges with the policy to be overcome.
Insurance group Legal and General said individual annuity sales were down 49% in the first half of the year to £383m. It also said it was expecting 50% falls in both the second half of the year and in 2015.
Rival insurer Aviva, which published results on Thursday, said that the value of new annuity business had fallen by 41% since the reforms were announced in the Budget.