ECB holds eurozone interest rates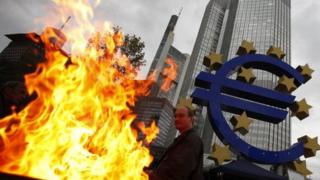 The European Central Bank has kept its benchmark interest rate at 0.15%.
After announcing measures in June to kick-start eurozone growth, the ECB says it will now keep rates low "for an extended period of time in view of the current outlook for inflation".
And ECB president Mario Draghi warned there would be a "continued moderate and uneven recovery" in the eurozone.
On Ukraine, he said it would closely monitor the effects of "geopolitical risks" on the modest economic recovery.
Sanctions impact?
Mr Draghi also said the risks around the situation in Ukraine and Russia would have "a greater impact on the euro area" than they would have on other parts of the world.
But he warned that it was "very hard to assess what the actual impact is going to be, once sanctions on one side and counter-sanctions on the other side are going to be undertaken".
The ECB cut its benchmark rate from 0.25% to 0.15% in June, and also became the first major central bank to introduce negative interest rates.
The deposit rate for banks depositing money with the ECB went from zero to -0.1%. The aim was to encourage banks to lend to businesses rather than hold on to money.
The ECB also announced in June that long-term loans were to be offered to banks at cheap rates until 2018 in another attempt to boost banks' lending to companies.
With Italy now officially back in the recession, and France's President Francois Hollande warning about a "real deflationary risk" in Europe, the ECB is under pressure to ensure the eurozone's slowdown does not become entrenched.
The latest eurozone inflation figures showed the inflation rate for the bloc dropped to 0.4% in July. That was the lowest rate since October 2009 and well below the ECB's target of close to 2%.