Riding a business wave on Australia's Manly Beach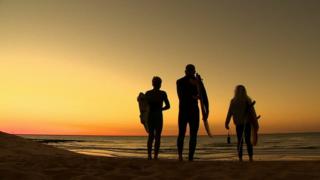 Three figures clad in black wetsuits emerge over dunes as the first rays of a crisp winter's day reach Sydney's Narrabeen beach on Australia's east coast.
Surf school owner Matt Grainger, his young son and daughter sprint over the coarse sand and leap into the swell to join a gaggle of other board riders. It's just after first light and time for a family ritual.
"Coming down every morning before work and school, and bonding with your kids is amazing. Just going for a wave, the sun coming up. I love it," says the 44-year-old Sydney-born entrepreneur.
For 17 years he has run the surfing lessons at Manly, a short drive to the south, marrying a passion for his sport with a profitable business.
Big business
"I went to a surf school when I was about eight years old, and about four years later they rang me up and said, 'Do you want a job?' - and pretty much worked all school holidays as a surf instructor then started competing," he explains.
"Ended up going to university and studying recreation of sport and then started the surf school at Manly Beach."
More than a decade and a half later the company employs 50 staff during the summer peak when Manly, like its famous cousin Bondi down the coast, is awash with visitors.
The school relies on young foreigners wanting a taste of Australia's surfing culture for the first time, while groups of up to 60 local school children are also taught how to master the basics.
Surfing may seem like an easygoing leisure activity but it is also a serious business. Industry estimates suggest that 23 million people around the world enjoy surfing, generating more than $7bn (£4.2bn) in revenues.
Matt Grainger's school has the exclusive rights to teach at Manly Beach, for which he pays 50,000 Australian dollars (£27,500; $46,380) to the local council.
'Awesome'
Conditions for today's lesson are textbook - the waves rolling in from the Pacific Ocean are gentle, about 1m (3ft) high, and the weather is a picture.
Poise and balance are the keys, as the class - eight young women and girls, and a boy on holiday from England - listen to Matt and his fellow instructor.
There are anxious faces and a hum of nervous laughter as they take to the water for the first time.
"I am a surfer virgin!" shouts Carolina, a backpacker from Buenos Aires, as she drags her long board into the shallows. She turns out to be a fast learner.
Within a few minutes, she and others are standing up and gliding towards the shoreline on a benevolent swell, but with success comes the inevitable wipeouts, as the learners, perhaps seduced by over-confidence and a lack of know-how, are given a salty lesson in the Manly surf.
"It was awesome," says a beaming yet exhausted Carolina at the end of the class. "I never thought I could stand up and I did many times so I am proud of myself.
"I thought it was harder but it is quite easy. Now I'm going to put all my pictures on Facebook so people believe me that I did it!"
Catching the breaks
There are highs and lows, too, for the surf school business, where the challenge is to ride out the quieter winter months in preparation for harvest time when the weather heats up, and the tourists flock back to the coast.
"The seasonal thing is the problem because we've got this massive bang or bust… [with] so many customers through summer and business is thriving," says Matt.
"Then we hit winter and we have got to hold on to our core staff [to] keep them in the game, so rather than shutting down we keep going."
As one weary class trudges back to the beachside office, another is about to start - a large band of British travellers eager to have a crack at the most quintessential of Australian pastimes.
"At the end of the day for me surfing is about having fun, getting stoked and when it's big waves, adrenalin," says Matt.
"If I ever whinge just hit me on the head with a stick or something [and] say, 'Wake up!'
"Everyday I pinch myself that I'm doing what I love."