Monte dei Paschi di Siena reports heavy loss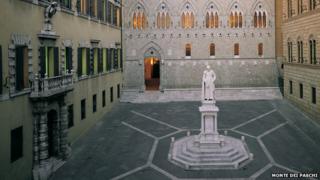 The world's oldest surviving bank, Monte dei Paschi di Siena (MPS), has reported a bigger-than-expected loss.
The Italian bank, which has been in business since 1472, reported a second quarter loss of 179m euros (£142m), three times the loss analysts had been expecting.
It was the bank's ninth consecutive quarterly loss.
MPS, which was bailed out by the state last year, blamed the rising costs of bad loans.
The bank has been through some turbulent years since buying rival bank, Antonveneta for more than 10bn euros at the height of the financial boom in 2007.
That deal stretched the finances of MPS and the subsequent global financial crisis almost caused the bank to collapse.
The Italian government had to step in and bailout the firm.
In June, MPS raised 5bn euros on the stock market which it used to pay back state aid and boost its financial situation.