'More card use' for low-value buys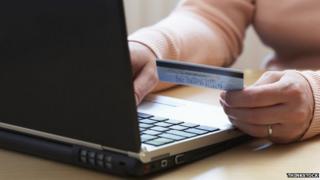 The amount of money spent with each use of a debit or credit card is falling as shoppers buy smaller items and digital content online, a trade body has said.
The value of the average transaction has fallen by £1.40 in a year to £47.51 in June, according to the UK Cards Association.
Supermarket price wars, budget retailers and the use of contactless cards contributed to the drop, it said.
But the figure has fluctuated in recent years.
Many small retailers are also unhappy about increased card use when the cost of processing these payments is higher than the cost of taking cash.
Online shopping
It is exactly 20 years since the beginning of internet shopping. On August 11, 1994, a Sting album - Ten Summoner's Tales - became the first item to be sold online in a secure purchase.
Internet shopping has ballooned since. Official figures showed that 74% of British adults have bought goods or services online this year.
The Office for National Statistics (ONS) said that clothes were the most popular items, with household goods next on the list.
Some 87% of internet purchases were made with debit or credit cards.
The UK Cards Association said younger people were more likely to use a debit card for online payments, with older people preferring credit cards which offer more protection for higher-value products.
Debate over fees
There is some evidence that people are switching from using cash to cards. Digital purchases such as music downloads as well as the limited introduction of contactless cards - which do not require a Pin to be entered - in grocery stores and coffee shops have assisted this shift.
Earlier this year, the British Retail Consortium said that there had been a 14% fall in cash use in the last five years, while debit card use had risen by 11%.
However, cash remains the most popular way to pay.
Some retailers are also unhappy with the level of fees that banks levy for card use, called interchange fees. The fees involved are paid by shops and businesses to banks, every time a consumer uses his or her card.
The European Commission wants to cap these fees, although this could take years to implement.