Pay delay hits Green Deal providers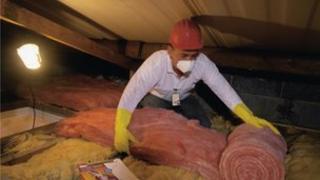 Companies carrying out work under the Green Deal Home Improvement Fund (GDHIF) say delays in payment are ruining their businesses.
Vouchers worth up to £7,600 should be paid by the government within 10 days.
Contractors have told Radio 4's You & Yours they are stopping work and laying off staff because they have been waiting up to four weeks.
The Department for Energy and Climate Change has blamed delays on the need to check the validity of applications.
The GDHIF closed in July, when vouchers to the value of £120m were claimed just weeks after the fund was opened.
It offered homeowners cashback and incentives on energy efficiency measures such as double-glazing, insulation and boilers.
Scores of companies applied for government accreditation to carry out the work.
Paul Mann is managing director of Insulation Render Solutions in Sheffield.
He agreed to carry out work on the basis that clients would quickly receive payment from the Department for Energy and Climate Change (DECC) and reimburse him.
Mr Mann says the lack of payments for the jobs have resulted in him laying off five renderers, two scaffolders and a plumber, and he's unsure if the business can continue.
He said: "Suppliers won't give us new materials until they've been paid, so we're stuck - the knock-on effect has been massive and we've had no clarity from DECC."
David Pink from Thrift Energy in Newcastle-upon-Tyne is also waiting for payment for work having spent more than £100,000 on materials.
He is, however, not surprised that DECC requires more time to check the validity of applications.
He said: "To redeem the money, DECC only asks for two signatures - we sign it and the customer signs it - along with the vouchers the customer had applied for.
"There's no photographic evidence - there's no other evidence of the insulation other than that."
With a reported £70m being allocated within three days, Jonathan Reynolds MP, the shadow minister for energy and climate change, said more investigation was needed.
He said: "To receive that many applications so quickly, there must have been a speculative element to it, with some people applying who may not be able to get the work done."
A DECC spokeswoman told You & Yours: "We're processing payments as quickly as we can.
"Following submission of a voucher, payment may be withheld or delayed by the administrator if it considers that further auditing is necessary.
"While this may be an inconvenience for some people, we're responsible for spending taxpayers' money wisely, and we have a clear duty to ensure that applications and claims meet the scheme rules."