Troubled Serco makes loss of £7.3m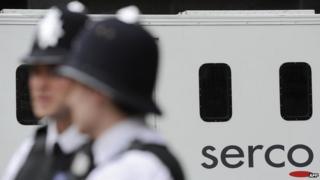 Outsourcing firm Serco reports a loss after "poor trading" in the first half of the year.
Reorganising costs and loss-making contracts led to a reported pre-tax loss of £7.3m, a fall of 107% from last year.
Serco was hit last year by a six-month ban on UK government contracts after a scandal over criminal tagging.
In May it announced plans to raise £170m from selling new shares after issuing two profit warnings.
"As expected, trading was poor in the first half," said Serco chief executive Rupert Soames. "Many challenges remain, and we have a lot of work to do, but I am confident that, in time, we can restore the company's fortunes."
Mr Soames, who was formerly chief executive of engineering firm Aggreko, took over as Serco boss in May.
Angus Cockburn, currently interim chief executive of Aggreko, has been appointed chief financial officer, the firm said.
Serco's reported loss of £7.3m came after a one-off charge of £29.4m related to restructuring costs.
The company said that at the beginning of 2014, it had a pipeline of 40 opportunities for new business. Eight opportunities had been lost, while two had been won, the firm said.
'Worst fears'
In July, Serco lost out on a contract to keep running the Docklands Light Railway in London.
"We are working on improving win rates and the pipeline itself requires replenishment: over the next two years, the estimated total value of new larger bid opportunities is £8bn, down from £12bn six months ago," the firm said.
In July, the firm began a "detailed analysis" of its contracts as part of a review of its strategy, and said on Tuesday that the review could affect its profit expectations for the year.
However, Serco shares jumped over 6.5% in early trading on Tuesday.
Stockbrokers Liberum advised investors to keep hold of Serco shares, despite the company's order book being flat.
The appointment of Mr Cockburn as chief financial officer will be "well-received", the stockbrokers said.
Shore Capital analyst Robin Speakman said: "The results for the half-year to end June are better than our worst fears, but still pretty grim reading in surveying the tribulations of the past year for Serco."
In 2013, Serco was given a six-month ban on securing new UK government contracts after it was accused of charging for tagging people who were either dead or in jail.
Mr Soames said on Tuesday that the scandal had affected morale at the firm and had led to "a number of senior managers leaving the UK business".