Managers 'guilty of leftover leave'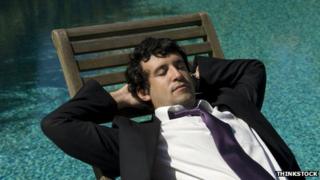 Two out of five managers did not use all their holiday entitlement last year, a survey has suggested, prompting a warning to businesses.
The Institute of Leadership and Management said that firms should check all their staff take their entitlement of annual leave.
One in 20 managers said that they had lost a week or more of their annual leave allowance last year.
The institute asked 1,000 managers about they holiday habits.
"Holidays are vitally important for maintaining a happy, healthy workforce," said Charles Elvin, the institute's chief executive.
"Workers come back from leave refreshed, relaxed and revitalised which is ultimately great for business, so it should be a top priority for employers to make sure their employees use it rather than lose it."
Other surveys have suggested that, even when on holiday, many business people fail to switch off from work.
For example, one survey of executives by Forbes Insights suggested that when on holiday, 63% checked email at least every one to two hours, 12% checked five times an hour, and only 3% never sent or received emails.