How small British firms can crack the US market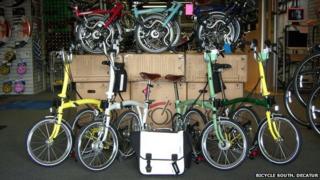 Just because a company is successful in the UK does not mean it will have an easy time infiltrating the US market - just ask Tesco.
Last year the supermarket group finally called time on its troubled Fresh & Easy chain in the US.
Tesco's exit from the States cost it £1.2bn, but it decided to pull the plug after six years of losses.
From when Tesco opened its first Fresh & Easy branch in 2007, until last year's sale of its stores, the US business never once made an annual profit.
If a company of Tesco's size can fail so thoroughly in the US, what hope is there for small and medium-sized British firms - and those from other countries - that want to crack America, and how can they best achieve it?
More Americans cycling
For UK folding bike maker Brompton, which makes all its bikes in London, its original policy for the US - a country more renowned for big cars than small bicycles - was to pedal very slowly.
While its bikes had been quietly available from US stockists for 20 years, it was not until 2008 that Brompton appointed its first employee in the US to boost sales - 60-year-old Ed Rae.
A year later Mr Rae opened Brompton's first US office, in Portland, Oregon.
"Until recently Brompton didn't have a lot of interest in North America, partly because I think they thought the feeling was mutual," says Mr Rae.
But in recent years Brompton has seen a cultural change in the US which has greatly strengthened its position - more and more Americans are now cycling.
Mr Rae, a veteran of the US bike industry, says the big development is that more Americans now see the bicycle as a means of getting to work, or to and from the shops, instead of just something they raced, exercised on, or simply used for fun at weekends.
And while commuting by bike remains a niche market in the US - less than 1% of Americans do it - the marketplace is growing. According to the US Census Bureau the number of people who cycle to work is 60% higher than a decade ago.
'Be distinctive'
To help boost Brompton's US sales and brand profile, Mr Rae and his one colleague visit bike shops and carry out marketing work, such as taking part in community cycling events, and boosting the firm's social media presence in the US.
And later this year Brompton will open a second US office on the other side of the country in New York. This will also have two members of staff.
With the company's bikes now being sold at 100 bike shops across the US and Canada, Brompton has high hopes of substantially increasing its sales which - across the two countries - are currently less than 10% of its global 50,000 annual total.
However, it is not all plain sailing for Brompton in the US, as the firm still has to deal with issues such as the fact that bikes are subject to an 11% import tariff, giving its American rivals a price advantage.
Sam Craig, professor of marketing and international business at New York University's Stern School of Business, agrees with Brompton's patient, long-term approach to the US market, saying that such a policy is vital if a foreign firm wants to gain a foothold.
"There is a big difference between selling products in the US and establishing a strong presence," he says.
"Your product or service has to stand out, be distinctive, and offer superior value."
Regular US visits
British jewellery designer Pippa Small admits that not being permanently based in the US can make things difficult in what is her most important overseas market.
To alleviate the issue, she ensures that she regularly visits the US to meet American customers.
"It's incredibly useful to meet your [US] clients, to see what people gravitate towards, to get feedback on things," she says.
British firms who struggled in the US:
HMV pulled out in 2004
Laura Ashley sold its US chain for a dollar in 1999
Marks & Spencer lost money when it sold US fashion chain Brooks Brothers in 2001
Sainsbury's sold its Shaw's upmarket grocery chain in 2004
And two who have succeeded:
Sandwich shop chain Pret A Manger has 58 US branches
Topshop now has four stores in the US
"It's a wonderful way of connecting, and emotionally understanding how people see your jewellery, and how they wear it."
Ms Small's jewellery has been on sale in the US for almost 20 years, via upmarket department stores, such as Barney's in New York.
A few years ago she opened a boutique in Los Angeles, and another is now planned for New York.
As a result of visits to the US, Ms Small, 45, knows all too well that customer preferences differ across the country.
For example, in New York her best-selling items are more formal pieces of jewellery, while buyers in Los Angeles want more bohemian designs.
'Risky business'
Alice Stone, the founder and boss of London-based luxury scarf business Lily and Lionel, visits her US operation four times a year.
But she says she mostly relies on the dedication of her handful of employees in New York, where she has a permanent showroom in Manhattan.
"We have a US team that are very passionate about the brand," she says. "I'm really lucky."
Her company, which she set up in 2008, now sees its scarves sold by US stores including Bloomingdale's and Henri Bendel.
And while Ms Stone's US staff work hard to boost awareness of the brand, their job has been made easier by the growing number of celebrities who have been photographed wearing her designs, such as model and businesswoman Elle Macpherson, and singer Lily Allen.
But for overseas firms - of all sizes - who wish to enter the US retail market, the advice from Sevgin Eroglu, associate marketing professor at Georgia State University's J Mack Robinson College of Business, is simple - be brave.
"It is inherently a very risky business," she says. "You cannot imagine how difficult it has become for even the giants to survive."