Surprise fall in eurozone industrial production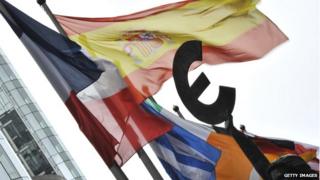 Industrial production in the eurozone has unexpectedly fallen in June, adding to signs that the region's economy is struggling.
Factory output fell by 0.3% in June after a drop in production of consumer goods and energy.
Analysts had predicted growth of 0.3%. The disappointing result pushed the euro down against the dollar.
Meanwhile, Spain saw its steepest decline in prices for nearly five years, adding to fears of deflation.
'Sluggish'
Commenting on the production figures, Peter Vanden Houte, an analyst at ING Bank in Brussels said: "This is a very disappointing figure after the already strong contraction in May (caused by additional holidays in some countries).
"For the quarter as whole, industrial production contracted by 0.4%, which doesn't bode well for second quarter GDP growth to be published [on Thursday]... A growth figure of 0.2% now seems to be out of reach."
Jessica Hinds, European economist for Capital Economics, said: "Looking ahead, survey measures continue to point to only sluggish industrial production growth at the start of Q3, adding to signs that the wider euro-zone recovery may have already peaked."
Ireland suffered the largest drop in eurozone production, falling 16.5% in June.
However, the two biggest economies saw increases - Germany rose by 0.2% and France by 1.2%.
Overall in the EU, industrial production fell by 0.1% and gained 0.7% over 12 months.
Spain
A further threat to the eurozone comes as as Spain reports its steepest slide in consumer prices in nearly five years.
Spain's National Institute said consumer prices fell 0.4% in the year to July, the sharpest since October 2009.
If consumers hold off on purchases in order to gamble on further price reductions, the Spanish economy could suffer even further.
The threat of deflation is one that the European Central Bank (ECB) is watching.
Last week, it held key its interest rates at a record low level, but the bank's president, Mario Draghi, said it had measures available "should it become necessary to further address risks of too prolonged a period of low inflation".