Markus Frind: The man 'behind a million babies'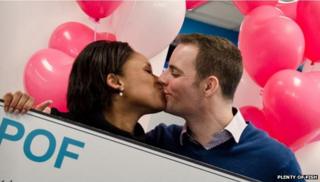 American writer and critic Susan Sontag once said: "Nothing is mysterious, no human relation. Except love."
Markus Frind, the founder and boss of Plenty of Fish (POF), the world's largest dating website and app, would beg to differ.
According to him: "Although people would like to think that everyone is unique and individual, when it comes to dating and relationships they follow a very common set of patterns.
"Nearly 70% of the time we're able to predict exactly who you're going to end up in a relationship with."
POF's ability to match up suitable partners has helped attract more than 70 million registered users around the world, led to millions of successful relationships, and - according to Mr Frind - played a part in the creation of at least a million babies.
So just how did Mr Frind, who still owns 100% of the Canadian company he founded in 2003, solve the riddle of the human heart? With data, of course.
At POF's sleek headquarters, atop a Vancouver skyscraper, dozens of TV screens display charts and graphs that monitor, in real-time, the millions of messages that users are sending each minute on the site.
Those messages form the backbone of POF's massive data enterprise, which tracks who users message, who they leave the site with - and of course, if and when they come back.
With all this data in hand, POF can quickly suggest like-minded people, or "matches", to new users who fill in detailed questionnaires about themselves upon joining.
Further data on users, and their compatibility with others, is gathered by encouraging them to take part in a free personality test.
Free to join
Although less well-known than competitors such as Match.com and eHarmony, POF gets more than two billion page views each month, putting it far above any other dating site in terms of traffic.
In achieving its giant user numbers, POF has one significant advantage over its rivals - it is free to join, and its basic functions are free to use.
Instead of making most of its money from subscription fees, like its largest rivals, the company focuses on raising funds by carrying adverts on its site.
And while POF's financial details are not publicly available, Mr Frind's personal wealth is now estimated at about $200m (£120m).
It is not a bad state of affairs for a website which Mr Frind initially only built so he could learn a new computer programming language, ASP.net.
"I never wanted to create a business - what I was looking to do was improve my resume [CV]," he says.
He chose the name Plenty of Fish - a nod to the phrase "there's plenty of fish in the sea" - out of desperation: seemingly every other dating-related domain name had already been snapped up.
Plenty of Fish says its data shows:
29% of users find their partner in less than a month
Male users who own a cat are 32% more likely to end up as part of a couple than men who don't have the pet animal. This rises to 42% for women with cats
If both partners' parents are still married, this will increase a couple's likelihood of forming a successful relationship
Men who write more than 460 characters in their description, and women who write more than 650 characters, are more likely to leave the site as part of a couple
A woman is more compatible with a man who has the same, or higher, level of education as she does
A graduate from British Columbia Institute of Technology with a diploma in computer systems, Mr Frind says he wrote the code for the website in less than two weeks in February 2003, and almost immediately saw users flock to the site.
By July of that year - after he placed Google's Ad Sense adverts on the page - he was making thousands of dollars a month.
That was enough to convince him he might no longer need to update his resume.
'Just a formula'
Mr Frind says he made the site free mostly because it was easier to operate, as a one-man business, if he did not have to worry about processing payments.
That way he could focus on adding features like chat, better photo pages, and of course, making sure users met their matches. Ensuring users, especially women, had a positive experience was the only way to guarantee success and, in his words, "virality".
"It was just a formula - get as many users in as possible, and if they make enough connections then it automatically goes viral in different cities," he says.
But unlike other Silicon Valley types, just when the site took off - gaining millions of users in Canada, the US and Australia in just a few years - Mr Frind decided to work less, not more.
He didn't hire any employees for the first five years, and would often take off for weeks at a time to travel the globe.
In one year, just after the site was founded, he travelled to 28 countries.
"There's only so many hours in the day that you're actually productive," he says.
Even today he tries not to work for more than five hours a day.
Watching grass grow
Mr Frind grew the site to 15 million members and more than $10m (£6m) in revenue by 2008, before he finally decided he needed help.
"There were just so many different pressures and so many different things coming at me," he remembers.
"It was like - it's time to start a company."
Today, POF has more than 60 employees. And users can now pay to access premium content, such as being able to know whether someone has opened or deleted one of your messages.
And while the growth of the business appears to have been achieved very smoothly, Mr Frind says the transition of users to mobile phones over the past two years has been one of the biggest challenges the company has faced, requiring it to focus more on its phone app platform.
Although Mr Frind says he is currently spending slightly less time than usual in the office so he can spruce up a ranch he has bought with his wife (whom he met offline), he has no intention of selling up to any of the many investors who have expressed an interest.
"I have no other plans - doing anything else would just be like watching grass grow," he says.