UK exports to EU are 'dead in the water'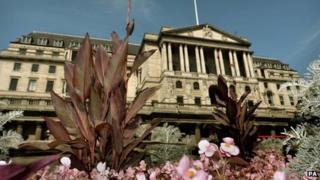 The UK's economic recovery is unlikely to be export driven as its biggest trading partner is "dead in the water", a Bank of England policymaker has said.
In a rare interview by a Monetary Policy Committee member, David Miles told the BBC it was "pretty difficult" to see UK exports growing because of economic problems in the eurozone.
But he said the UK's recovery was no longer being led by consumer spending.
Earlier official figures showed eurozone GDP was flat.
Professor Miles told Radio 5 Live's Wake up to Money, UK export growth had been "pretty disappointing" over the last two or three years.
He said the "single biggest factor" behind the lack of export growth had been that demand in the eurozone had been close to zero during that time.
Exports
Professor Miles added: "So our single biggest export market has been, I'm tempted to say, dead in the water. It hasn't been growing at all. And it's pretty difficult in that environment to see exports growing very strongly. So the recovery, very welcome as it is, has been a bit dependant on consumer spending."
The Bank policymaker's comments highlight the difficulties the government faces in its attempts to re-balance the economy and boost exports.
The government wants UK exports to reach £1trn in value a year by 2020 and for 100,000 more UK companies to be exporting by the end of the decade.
In his March Budget statement, the chancellor announced help for firms to encourage more investment and exports.
The annual 100% tax allowance for business investment was doubled to £500,000 and will run to the end of 2015.
The amount of government credit available to support overseas sales was also doubled, to £3bn.
"We're not going to have a secure economic future if Britain doesn't earn its way in the world," Mr Osborne said at the time.
"We need our businesses to export more, build more, invest more and manufacture more."
Professor Miles' remarks followed official figures released on Wednesday showing average wages grew at their slowest annual pace since records began in 2001.
Spare capacity
A short time later, the Bank of England published its latest quarterly inflation report, in which it revised up its forecast for economic growth to 3.5% this year from 3.4% in its May report.
At the same time, it cut its forecast for average wage rises this year in half from 2.5% to 1.25%.
And the Bank admitted there was "a wide range of views" on the Monetary Policy Committee (MPC) about the likely degree of so-called "spare capacity" in the economy.
The Bank's quarterly inflation report said: "Domestically, output is sensitive to the assumption that a gradual revival in productivity and real household incomes help to underpin a sustained expansion.
"Productivity growth has shown few signs yet of a recovery and is now projected to pick up more slowly than anticipated in May," it continued.
Professor Miles told the BBC he believed the public "had got the message" that the path back to normal levels for UK interest rates would be "a gradual and gentle one".
Wages
He said he believed inflation would remain at, or around, the Bank's 2% target for some time to come adding this was a "very good news" as it meant the MPC was not "going to be pushed into raising interest rates sharply or immediately because the inflation outlook remains pretty subdued".
Professor Miles also said he believed the economic recovery was now becoming more balanced as businesses began to invest more.
That meant businesses were beginning to use up spare capacity in the economy as they hired more staff or invested in technology or equipment to expand.
He said: "Fortunately investment spending has been increasing recently and I would expect that to continue so I think we are getting more than just a consumer led recovery here."
Professor Miles said most members of the MPC believed this because the "degree of slack" in the economy was being used up, it was "quite likely that as we go into next year wage settlements will be a bit higher and wages will start to rise at a rate that outstrips inflation".
He said: "If you look at the level of wage settlements that people are going to be getting, on average, they are likely to be around the 2% level."